Terminator: The Sarah Connor Chronicles Premiere Party Reports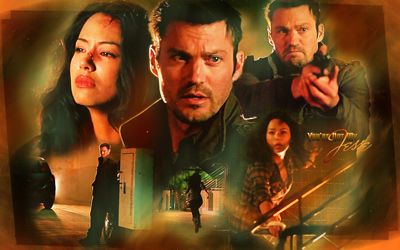 Sarahconnorsociety.com was invited by Fox Studios to attend the premiere of TERMINATOR THE SARAH CONNOR CHRONICLES in LA to cover it for our website back on 1/9/2008! I was invited to go! I got to hang out on the red carpet and interview folks who came by. A funny story, part way through the evening a young brunette woman was coming around and I asked the Fox folks who she was and they said "Yeah, that Megan Fox girl - from Transformers - do you want to talk to her?"
I said no. LOL! What can I say, I was much more interested in her beaux Brian Austin Green who actually was going to be appearing in the series.
At the part I got the opportunity to speak to Brian Austin Green, Thomas Dekker, Owain Yeoman (now on The Mentalist) Lena Headey, Summer Glau, and producers James Middleton and Josh Friedman. Head writer Zack Stenz was kind enough to introduce me to the producers and Miss Glau.
Here are my reports from the evening!
---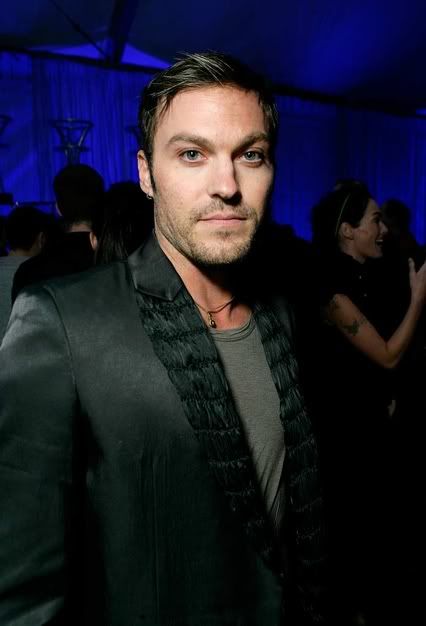 Terminator: The Sarah Connor Chronicles Premiere Party
Brian Austin Green Speaks out at Premiere!
By Erika Blake

T:SCC special guest star Brian Austin Green was in attendance at the premiere along with Megan Fox (from TRANSFORMERS.) I got an opportunity to speak with the former "90210" star before the showing of the premiere.

Brian was a very down to earth person who was exuberantly grateful & honored for being allowed the opportunity to become a part of the TERMINATOR franchise. I asked him if he loved the films growing up and he reminisced how he used to watch the ultra limited edition of TERMINATOR 2 over and over again on his laser disc player.

He was so proud to be a part of the new show and said that fans will be thrilled that each episode is like watching a movie each week, packed with action, and high budget.

When I probed him about his character, Brian squirmed and refused to spill the beans. When I asked if he got to do a lot of green screen work he replied, "You'll just have to wait and see."

He did reveal that his character will be appearing in Episode four and when finally I asked if we might be seeing his character in later episodes, he cheekily replied that it's possible.

---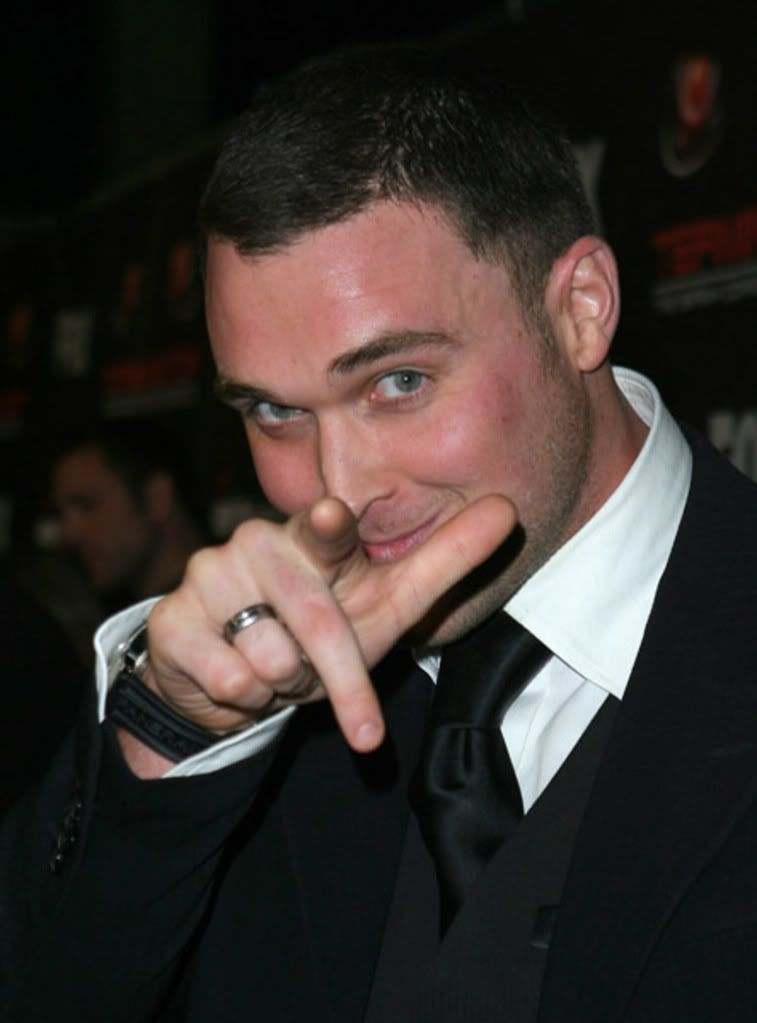 Owain Yeoman Talks About Being A Terminator

By Erika Blake

Standing at 6'4" Owain Yeoman made for an imposing (and very handsome) figure, it's no wonder that he was selected to be the first TERMINATOR in the Pilot sent out to seek out and destroy John Connor. When I asked him what it was like being in the pilot he replied in his lovely Welsh accent, "It was incredible! It was a really grueling shoot, it's funny because I did the shoot and I thought it was a really tough shoot and then I spent 8 months shooting an HBO mini-series sitting in a dirt hole in Africa and I look back and think now, you know what? that wasn't such a bad shoot after all. It was hours in prosthetics just to have this face [the mangled Terminator face] you know and when they did the special FX it was even worse. But it was great, just great stepping into this franchise."

I then had to mention his cool very Terminator tag line in the Pilot and he laughed, "Yeah! Class dismissed. I leave my house every day going around to my wife saying Class Dismissed and she just says 'whatever.'"

He mentioned to Anna at TVguide.com that they had technical issues with the leg/letter opener scene. The leg used was fake and he kept bending the letter opener.

Owain happily provided further details about his HBO project. "It's a new HBO mini-series from the writers who did THE WIRE, it's called GENERATION KILL it comes out next November which is great and I'm very, very proud to be a part of it was a very, very tough shoot, 8 months in the various parts of Africa lying in swamps!" He joked, "The glamor was unbearable!"

He also said that he's going to be producing and starring in a new project Coat Check Girl in which he'll be starring with his wife Lucy Davis. He was excited that it would be the first time that they would be working together.
---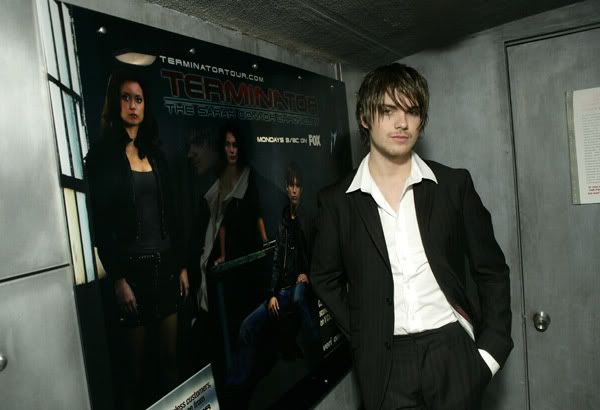 Thomas Confesses: Thomas and Lena – Set Pranksters!

Article & photo By Erika Blake


Continuing my coverage from the Premiere – we now have my brief interview with Thomas on the carpet!

Thomas was dashing in his black suit for the evening and was impeccably styled and looked every bit the movie star at his show's big Hollywood premiere! Thomas was very friendly and said that he'd heard about our site and was ready for my questions! Inquiring minds want to know, I had to ask, "So what's it like working with the two hottest women on TV?"

He chuckled, "Well let me tell you, I mean that's what makes it worth it you know it's not playing John Connor, it's knowing that you get to work with Lena and Summer. No actually although they are painfully attractive we've all become so close that we're like brothers and sisters." He also joked about hiding behind a couple of girls to protect his character on the show but that we'd be seeing him kick some butt...eventually.

I then told him that I'd heard that they liked to joke around on the set and asked if he had any stories or pranks that he'd like to share with MOTHEROFALLDESTINY and here's what he had to say, "Lena and I are like badly behaved children. We spend our days pranking and laughing...Oh well Lena convinced me that one of our other like pseudo regular actors used to be a porn star! And I actually believed her! And had a long conversation with him about it and she put him up to it as well, it was very awkward. But I got her back a bunch of times."

On a more serious note, Thomas said that America needs this show as a forewarning of the machine intersecting with the human soul & emotions. Very interesting indeed! Thomas spent the after party burning up the dance floor with his date Sydney Freggiaro! Check out some exclusive pictures w/ Thomas's moves in our gallery!
---
TERMINATOR: THE SARAH CONNOR CHRONICLES PREMIERE!

HOLLYWOOD GETS TERMINATED
By Erika Blake

January 13, 2008


The clouds & rain that had placed Southern California under flooding warnings seemed to know that they needed to terminate just in time for the premiere for TERMINATOR: THE SARAH CONNOR CHRONICLES. The premiere took place at the historic ArcLight Cinema Theater on Sunset Boulevard in Hollywood California on January 9th, 2008. It was sponsored by Fox and Verizon Wireless.

The core cast members were all in attendance, Thomas Dekker, Summer Glau, Lena Headey, and Richard T. Jones. Recurring guest stars also came to the premiere: Brian Austin Green, Garret Dillahunt, JR Cruise, and Owain Yeoman.

Other celebs who made appearances included: Kristanna Lorken (Terminator 3:Rise of the Machines, Painkiller Jane,) Michelle Hurt (Law and Order:SVU, ER) Megan Fox (Transformers,) Sydney Freggiaro, Noah Dunby, Daniel Wisler, model Bobbi Sue Luthor, and Lucy Davis.

Cast and crew members were at the event also, they included James Middleton (Creative Consultant Producer,) Josh Friedman (Executive Producer,) David Nutter (Director,) the show's writing team, and Special FX artist Rob Hall.


After the photo shoots and question and answer session on the black carpet the crowd moved indoors to watch the premiere of the Pilot for the show. Fox President Kevin Reilly brought the evening festivities to an open by introducing the key members involved in the project.with big thanks to Josh Friedman and he also thanked their partners at Warner Brothers Peter Roth and Fox Chairman Peter Liguori. James Middleton then introduced the cast and crew members behind the pilot, John Wirth, David Nutter, the writers, and the cast. He gave a special thanks to "a great creative soul" Josh Friedman. The writers were sitting directly behind me and gave a rousing round of applause to their fearless leader when he was introduced along w/ everyone else in the theater.

Before the lights dimmed, Kevin Reilly announced the winner of the Fox Fan Poster contest: Charles Gemelli from Firestone Colorado saying that it won in a landslide with over 60,000 votes and referred to Charles as being a "superfan."

When the lights dimmed the Pilot was aired in its full HD size across the large cinemascope screen. The domed cinemascope theater is equipped with one of the most advanced THX surround system in the country. From the moment that the pilot began I found myself utterly transfixed watching it. Even though I had watched the sneak peek online when they showed it on tv.yahoo.com, seeing it on a giant screen with the score completed new score inside the theater, I found myself once again entranced by the story and marveled again at David Nutter's masterful directing skills to craft a pilot that perfectly sets up a TV series..

What I can tell you is this, if you have seen the Comic Con version of the pilot either at the convention or online, if you saw the version provided on the promotional disks that Fox sent out, or if you saw the sneak on Yahoo - you haven't seen it all!

The final cut of the pilot is phenomenal and stands up to the TERMINATOR legacy that it's built on. Fans who had grown attached to the use of the TERMINATOR score in the pre-aired pilot need not fear, the final score by BATTLESTAR GALACTICA RE-IMAGINED composer Bear McCreary is rich and melodic and ripe with emotion. Lena Headey described it as "beautiful." The surround sound brought the whole pilot to life, the action scenes not only looked like they belonged in a TERMINATOR film, but they SOUNDED like it - they're LOUD.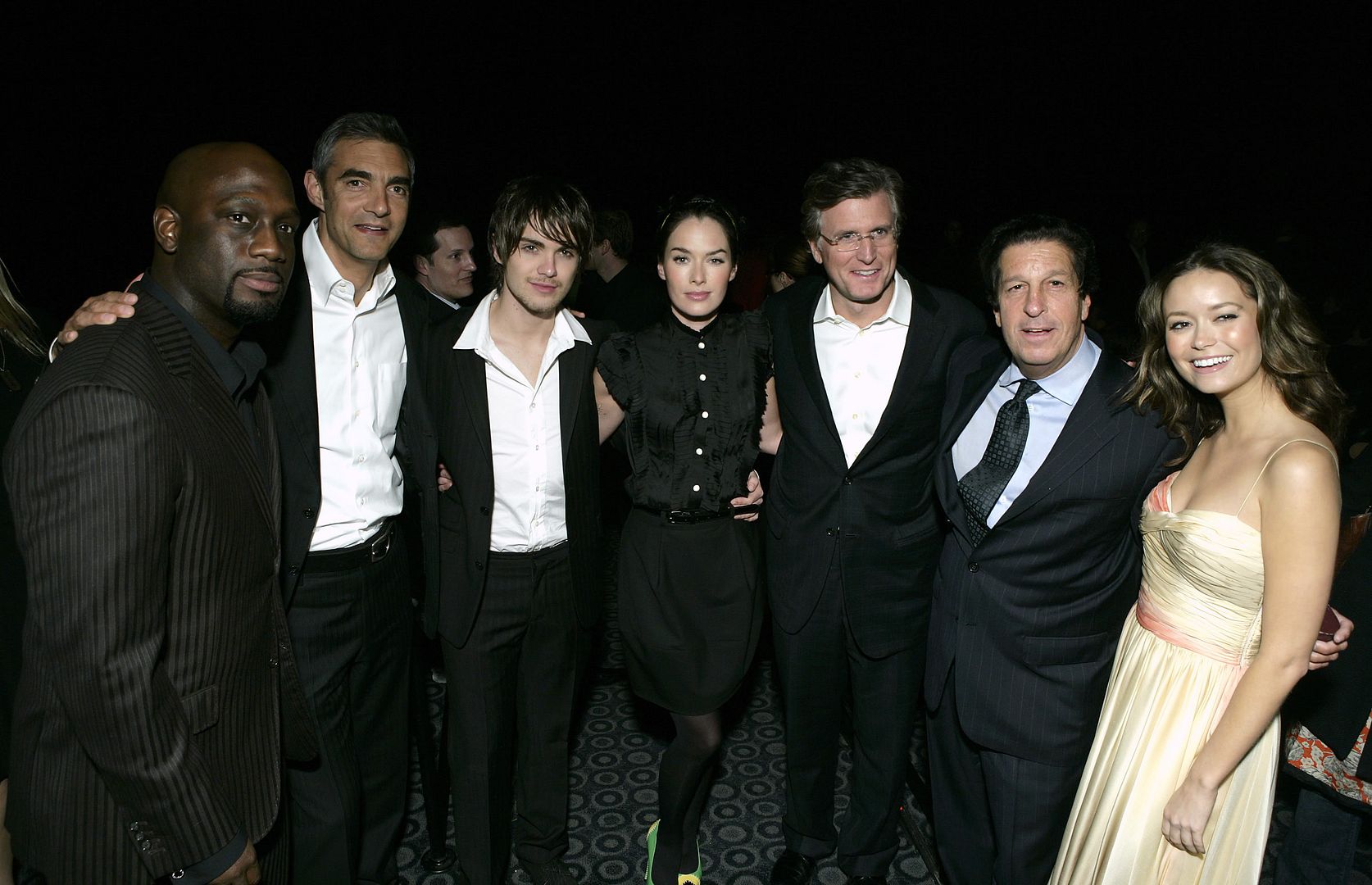 The other thing that sells this show is the depth of experience from the show's cast. The lead star, Lena Headey has worked most all of her acting career in films. Richard T. Jones and Summer Glau have both extensively worked in both in television and films including having previously worked in science fiction. And Thomas Dekker has already had a long career in TV, films, and has done extensive voice-work for feature length cartoon films. Most television shows are lucky to get one or two people who are big draws for a cast, much less four incredibly talented individuals who have a burning passion to see their show succeed. When I talked to both Summer & Thomas both echoed a sentiment that I've heard repeatedly about this cast, that they're already as close as family.

There were a few alterations made even from the sneak on Yahoo. The tiniest added scenes helped to make the episode even more cohesive. When the final credits rolled, I felt like a full length movie had just ended, not a forty-five minute television episode. If you were thinking of only tuning in on Monday for the second episode, don't; the last thing you'll want to do is miss the pilot. Special Guest Star Brian Austin Green told me on the carpet that the show just gets better each week and the action is on par with movies. If you have an amazing home theater system, crank up the volume, unplug your phones, grab a bowl of popcorn, and watch the Pilot to get you in that TERMINATOR zone!

After the premiere we were sent on an easter egg hunt through the courtyard of the movie plaza, following signs that directed us to the after party! Sponsored in part by Red Bull and Sprinkles Cupcakes of Beverly Hills, the party took place in a tent on the roof of the parking lot of the ArcLight Theater complex.

Fox spared no expense to give a big show sendoff and their deep appreciation to the crew and cast for an amazing Pilot and forthcoming series. The tent came to life with flashing colored lights and cameras that flashed promotional footage for the show, showcasing the different actors, action scenes, and some new character footage that hasn't yet made it onto the airwaves.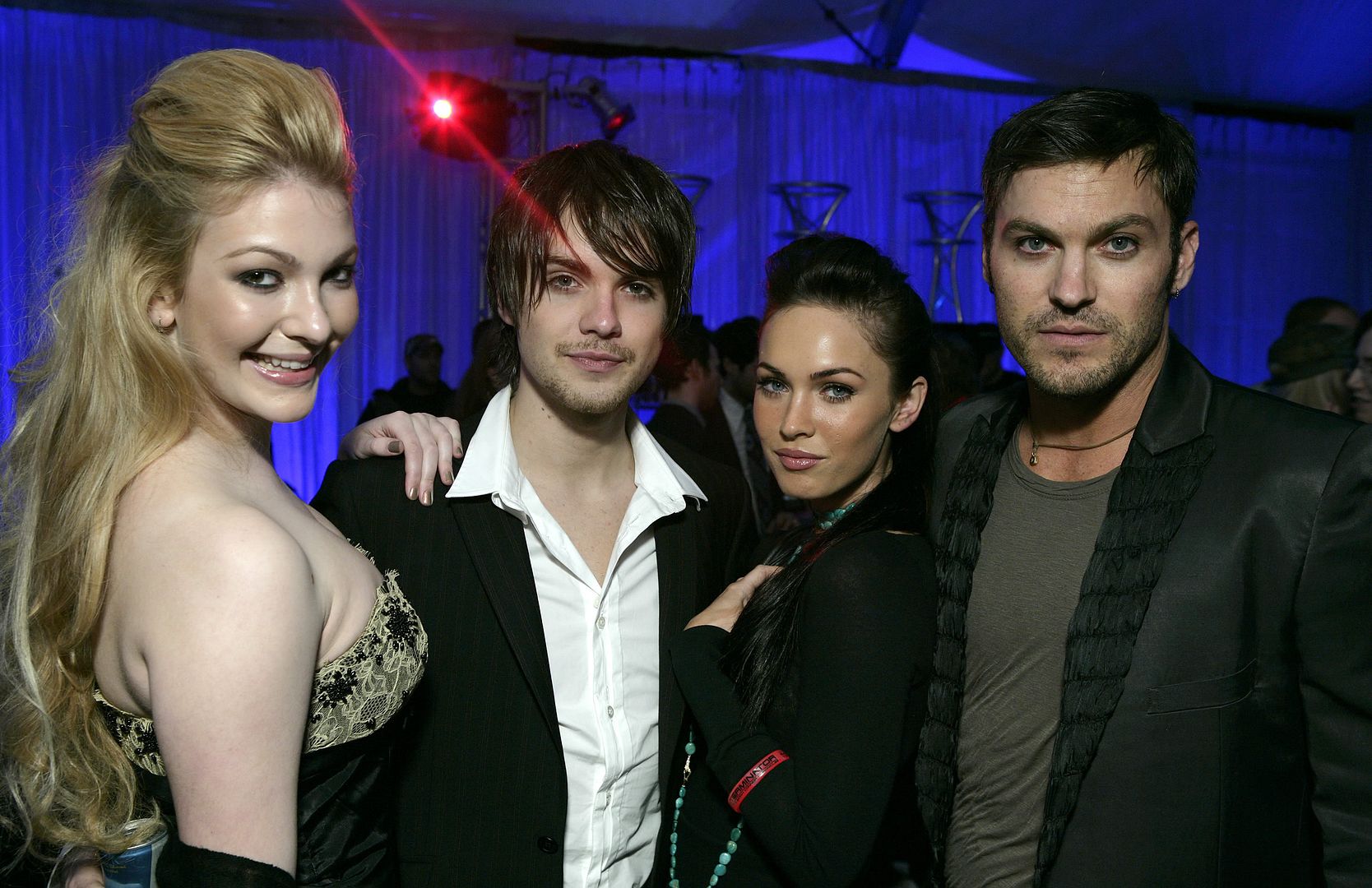 They had an open bar and piles of food for the hungry masses. Freebie handouts for the event included neon red glow stick bracelets that were imprinted with show's two-night premiere dates, dog tags with the show's logo and premiere dates, and special After Party hologram cards/magnets. At the party I got to roam around with fellow onliner Randy Jennings from TheArnoldFans, the oldest Arnold Scwarzenegger fan site on the web (they recently celebrated their 10 year anniversary and the Governor himself wrote them a letter to congratulate them.) Together we met various members of the cast and crew and compared notes over who we talked to when we were between chats.

When I met both Josh Friedman and James Middleton I was amazed to learn that not only both men knew of Motherofalldestiny, but they both lauded it as the best SARAH CONNOR CHRONILES fan site on the web. I found myself rather shell-shocked by their declarations. After spending more years than I care to admit toiling away in online fandoms it was almost intoxicating to hear that the wonderful folks who are in charge of this new show and re-invented film franchise not only deeply care about their fan base, but actively seek out sites and examine their content in order to monitor the pulse of their fan universe.

James Middleton told me that he was stunned to learn that Motherofalldestiny wasn't an official Fox site. Josh told me that he checks it daily because "you find stuff that even I don't know about on the web."

In a 20 minute promotional feature about TERMINATOR: THE SARAH CONNOR CHRONICLES that is currently playing on the Fox Movie Channel all of the various crew members mention repeatedly how diligently they are working around the clock to make this show worthy of fans expectations and that they are terrified that they're going to let us down. The writers frequently visited Termintorfiles.com, the largest and oldest TERMINATOR films fan website as their main fact checking source. Considering that more than half of the TERMINATOR fan boards are located overseas, I hope Fox won't be too shocked when they realize how desperately people from around the world are waiting for this show to air in their countries, it very likely can become the next HEROES, or even better the Fox heir to my personal all time favorite TV show THE X-FILES.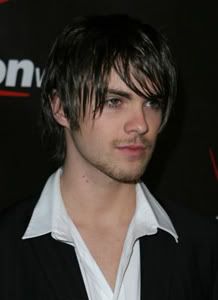 Back in July 2007 when this show premiered at Comic Con, James Middleton said that he wanted to bring this show to the fans. Both he and Josh convinced me at the After-party with their sincerity and enthusiasm for fan input that their commitment has not changed.

Daniel from TheTVAddict told me that he thought Fox was progressive for inviting some of us onliners to the premiere to cover it because "our generation doesn't read newspapers, we get all of our news on the web."

I'd have to agree with him, I usually scout out reviews in blogs to post before it even occurs to me to look at legitimate newspapers for reviews. All that I can say is that I was delighted to be given a rare insight into a world that we mere mortals usually only view from afar and get to only see glimpses of through the eyes of bubbly entertainment TV hosts who know little about the actual stories or stars that they're reporting on.

At the party people kept commenting to me, "Wow you must be a huge Terminator fan." Well, not really, I'm actually a Sarah Connor fan, it was her story that always inspired me when I was younger. I consider her to be one of my film heroes . James Cameron's strong women have inspired generations and Sarah was really his first. As James Middleton said in a recent news press conference in an article by SFUniverse, "I think everybody wants to believe that there is a calling for them, that they can have a positive impact and their existence means something."

Sarah's character is that of a small woman, a waitress who finds herself at the epic-enter of events that could lead to the destruction of mankind; because her son is considered a messiah and she a legend to the future survivors of the holocaust. Few people could handle living under that sort of responsibility and stress. James Cameron showed the ugly side of pressure in T2, eventually Sarah cracked under the pressure and had to be institutionalized. The show picks up with her having been in hiding for two years, thinking she succeeded in saving the world, but quite rightfully not really believing it.


Lena Headey brings a quite calm to the character that is every bit unnerving as Linda Hamilton's take no prisoners portrayal in TERMINATOR 2. Sarah's a character that we all know is capable of coming through in the end but won't necessarily make it through unscarred physically or emotionally. She's as real as you can get in a show about cybernetic killing machines that travel through time. James Middleton's decision to launch this series with Josh Friedman is brilliant, especially for the scary time that we're living in. 9/11 still haunts most of us and with life being as stressful as ever, it's rather refreshing seeing a character on the screen who's (literally) got the pressure of the world resting on her shoulders. Her problems can help make yours appear small.

A weekly serial drama is exactly the format best used to truly flesh out Sarah Connor's character and bring this modern woman to life. This series in many ways is unique because for all that it's a dramatic, family, action show - it's also got a tragic twist to it. Every time a new Terminator comes after the Connors, we know that as of that moment the Connors have failed the future. It is this more than anything that will keep me tuning in each week. David Nutter promises that the Connors will be chasing down a giant conspiracy over the birth of Skynet which will provide much creative fodder for the writers of the show to keep us entertained for years....once they're allowed back into their offices.

Josh Friedman was genuinely pained that he and his writing staff walked away with only completing nine episodes for the season. He said that they don't have any other scripts completed, but that the last episode is one heck of a cliffhanger. Summer lamented to me that it was great to see everyone at the party because they've now been apart for so long.

Once the strike is over, the writers will have a lot of work to do to get next season ready to go. Hopefully with the shortened season this year, this will mean that we'll get an extended second season next year after the strike is resolved.

If the wonderful premiere party that I attended was any indication of Fox & Warner Brother's commitment to this show, and if we all support it with our ratings, I'm certain that we can expect to see many years of TERMINATOR: THE SARAH CONNOR CHRONICLES being on the air. If this is the case, you can be that Motherofalldestiny will be there to keep you up to date on all of the SARAH CONNOR CHRONICLES news.
---
My Exclusive Photos from the event. Please do not upload/or take any without contacting me first.
    

Red Carpet
       
     
          
       After-Party
       
    
         
  
Party Swag!

We got all sorts of cool swag from the event!
My Premiere Ticket
T-shirt & Ballcap from FOX!
Party loot...
And Finally - I got Terminated:
---