Welcome to my Smallville Area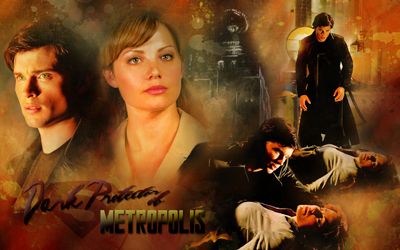 I've been a fan of Smallville since Season 6. In 2007 I founded "Operation Save Clark Kent" a movement by Superman mythos fans who were disgusted by the Out of Character portrayal of Clark Kent on the series. Our mission was a success and the series is better than ever under the hands of Brian, Kelly, and Tom.
I've written lots of fanfiction for SMALLVILLE - all is Lois & Clark centric. I also have written essays and have made GOBS of fanart for the series!

I'm an avid Clois 'shipper and also founded Superverses - a fun fan forum where we talk about the mythic angles of the series (with Clois being in the foreground.) You can also chat about Supernatural, "V", and other Superman & Comic related topics on the boards.
Please enjoy the goodies that you find here in my Smallville area :)
---
OSCK Magazine:
Issue # 3
Published: December 19th,  2010
SMALLVILLE Season 10 News & Episode Reviews
Smallville Spoilers
Exclusive Interview: Louis Febre (Smallville Composer)
Exclusive Interview: Elena Satine (Mera)
Exclusive interviews: Riese Kingdom Falling – Christine Chatelain & Alessandro Juliani
Exclusive Review/Interview: Dean Cain, new film "Bed and Breakfast" Review & Interview
V Series Essentials & Season 1 Guide
Hellcats Essentials Guide
Lois and Clark Season 2 Guide & Reviews
Special Christopher Reeve Tribute
And much, much more!
This issue is available to view online or to download it. You can also embed the magazine for download on your site.
Click HERE to view & download the Issue!
Read previous issues HERE or HERE!
Wallpaper showcasing artwork for the issue:
Available in 3 sizes: 1680×1050 1440×900 1280×800
---
Fanfiction Archive
Click the banner to check out all of my Smallville fanfic offerings, including my current fic:
---
Essays
Coming soon
---
Smallville Fanart
Click thumb to access my Fanart page:
---
Smallville Screencaps
Screencaps are all HQ and are either DVD or Blu-Ray/HD quality.
Access the full Screencap gallery HERE.
Featured Caps:
---