Clark's Pictorial Diary
Story Parameters
Clark's Pictorial Diary

Author: RedKryptonClark aka RKC_EB

Story Details

Characters: Clark Kent, Lois Lane
Story Type: Action, Angst, Drama, Tension
Story Type: Humor
Story Rating: PG-13

Story Type: Humor
Story Rating: PG-13 - mostly because Clark swears a lot in this, I mean he IS thinking of Lois and some mild sexual content, again, we're talking about the thoughts of a teenage alien-boy - LOL!
Disclaimer: I don't own Smallville, if I did I would never let him leave my house
---
Clark's Pictorial Diary
Dear Diary,

Well since Lois gave this thing to me, I guess I should start with how we first met, you see I had just been reborn and was delivered to earth so that I could find my destiny and become a god amongst men…or some other crap like that that Jor-El kept shoving down my throat about why he sent me here.

Lois was nearly struck by lightning and was nearly fried by my re-entry to Earth.




What does she see? A big dumb alien who couldn't even remember his own name….oh yeah and apparently I lost my shame along with my name because I was stark naked and showed her all of my goodies w/o bothering to cover myself up.




I guess I can't blame the girl, she enjoyed the view. To her credit she at least never did deflate my ego whenever she mentioned such event again and instead referred to, well you know, as Clark Jr…not little Clarkie – that name she reserved for the damned dog. Is it the iee sound you don't like because you know we could just call him Clark but then there'd be two of you and that would get awfully confusing…maybe you can change your name…YOU can be Skipper! God that woman IRRITATES ME!




Anyways, then like any sane person who found a naked amnesia affected guy in a field would do, Lois took me to the hospital. At least she took me to Smallville General and not Belle Rieve…She had a red blanket that she wrapped around me…I really liked that blanket, something about it felt right being around my shoulders…




She was quite gracious – and wanted to dump me there, so I gave her a reason to stay.




I confess that after getting stuck with Lois in a hospital room for 45 minutes and hearing her yammer non-stop, I had reached the end of my tolerance level. I thought my ears were going to explode.





I must say though, she's got a nice ass. I admit it, I stared at it probably a bit too long when she stuck it out there in front of me – I figured what the hell, she already thinks I'm a freak, why not add pervert to the list of growing charming attributes too? But you know in my defense if a girl's going to wear ultra-low rise pants she had BETTER expect guys to check out the goods…is it my fault that she's always wearing the damned things? Is it my fault that I sometimes put her clothes through the drier at a slightly too hot cycle so that they all shrink a little?? What guy would blame me? Huh? It's the least I can do since she always expects ME to do her laundry for her.




Lois…what was I talking about? Oh yeah…So I picked her up and moved her out of the way, she apparently was a bit turned on by this show of strength.




Then we met up with Mom and for some reason I wanted to stay with Lois, apparently I wanted to completely lose my hearing, which in hindsight would've saved me from hearing that damned ringing that the stone gave off when Lex found it.




That would've saved me from that terriflying flight and very very uncomfortable bought with Black Kryptonite.

I later met up with Lois at Chloe's gravestone. My mind was a bit jumbled from the last couple of days events but I remembered her – every annoying attribute that Lois possessed. I wittily threw it all back at her "Chloe's cousin, nicarrette addiction, hates uncomfortable silences." She failed to find the charm in it. She thought I was a dork and a weirdo.




She got all high and mighty about how SHE was the only one trying to find out about Chloe's death – HELLO stuck god only knows where for 3 months, I HAD a valid excuse for not looking into Chloe's death. Then again I couldn't tell her that without telling her my secret and like HELL I was going to do that..right...because Lois needed the biggest reason of all to KNOW I was a freak.




Grrrr!

So I did the only thing I could do and killed her with kindness and offered her to stay at my house so she wouldn't have to live out of her car. Little did I know she'd take over my bedroom, I'd never have a hot shower again, and we'd constantly bicker. Sigh.




Finally she left me at Chloe's grave – I did my Kryptonian thing and x-rayed it seriously hoping I wouldn't find a corpse and happy days! It was empty! I then announced the fact that her grave was empty to Lois. Boy was I proud of myself – I'd gotten us our first clue about Chloe's death!




Of course, Lois just turned and looked at me like I had six heads and her low opinion of myself was only further re-enforced.




Ok, now I'm depressed. That was a BAD day…I'm leaving now, I'm sure Mom has an apple pie in the fridge that I can go and inhale.

I'll tell you about our lovely next adventures later.

Clark aka BDA (Big Dumb Alien.)
---
Dear Diary,

So I guess I should pick up where I left off the last time. After leaving the graveyard together we headed towards Chloe's safe house.




We're marching up this long hill and Lois continues to blather about this and that and I happened to mention that this wouldn't have happened if I had been around and she of course had to cut me down. What was it she said? Oh yeah, I don't get you Commando, one minute you're all meek and yes ma and yes pa and the next you're the most overconfident guy that I know.

I had to laugh and reply, Doesn't happen to you very often, does it not being able to peg someone right away.




She of course has to burn me with Oh get over yourself, you are NOT that complicated.

Can you believe that? ME Uncomplicated? Excuse me, ROTFLMAO!




*Wipes tears from eyes* Seriously, that woman doesn't know WHAT she's talking about. If it wasn't for the fact that she's so hot…I mean smart…I mean hot…oh whatever. *Cough* So we get to the safe house…or what's left of it and suddenly Lois is no longer her snippy self but is obviously grief stricken still. I try to reassure her that Chloe must've escaped somehow, something told me that I wouldn't be able to stand seeing Lois cry, but she just slammed down my theory saying I was playing on the wrong rung of the grief ladder and disillusioned about Chloe being alive. So much for my feeling sympathy for her.

Whatever.




Then the fun comes in – a black helicopter shows up and chases us away.




I shout at Lois to get the hell out of there and take out two of the commandos using my signature chuck 'em move while Lois is being chased by the helicopter. Seeing that she's about to be seriously outnumbered I do my heat vision thing on the copter and disable it. HA! That'll show HER why I'm confident…wait she didn't see, nor does she know that I disabled the helicopter. DAMMIT missed opportunity to show off in front of Lois.




Anyways I super speed myself down to help out Lois only to find that she's single-handedly kicked the crap out of a special ops guy. To say I'm impressed would be an understatement. I mean I've spent the last 3 years playing personal white knight against Lana's constant string of freak fighters and I find this strange girl who actually can help herself.

What am I supposed to do if she doesn't need me to save her?

*Gulp* I desperately needed a shower after that.




Which you know I was properly enjoying when suddenly the door opens and who barges in on me while I'm taking a nice hot shower – but LOIS!




I mean, seriously, she takes over my bedroom and now barges in on me while I'm stark naked and showering. She has NO manners whatsoever.




I happen to peek out of the curtain and see that she's not even fully dressed. All I can see is shapely, sexy legs…CRAP what the HELL was she trying to do to me?




Ok I have a confession to make, I love Lois's legs…I damn well don't get to see them enough though because she doesn't wear skirts or shorts, but they're so long I wonder what it would be like to have those wrapped around me?

CRAP! I did NOT just write that….HA! just scribbled it out – now you don't know what I just said.




Anyways she's twirling her hair and peering over her shoulder trying to get another peek at Clark Jr and I nearly fell on my head trying to reach a towel so I could properly cover myself and get the hell out of there. She called me Eagle Scout…seriously do I give off the impression that I'm that much of a stick in the mud?




When she corners me and I realize she not only invaded my shower time but she stole one of my shirts! Not just any shirt mind you but one of my favorites red and gold plaid. GRRR! Of course now it's tainted every time I wear it or put it on the first thing I think of is Lois's long, muscular legs.

*Must not get aroused at thought*




So I'm scrambling to get out of there barely registering what she's asking of me when I open the door and who's there, but MOM!




What does freaking Lois do? She sneaks up behind me and pops her head over my shoulder and says hello, I'm really surprised she didn't just rip the towel off of me right there, I mean what's a little more humiliation at that point?




Great now my parents are seriously second guessing my motives for inviting Lois to live...I mean STAY with us. I mean, why wouldn't they? It looks like their sweet son did it so he could snatch a nooner with his new hot fling.

Nooner with Lois…as if she would ever let THAT happen.




So I do the good son thing and tell them that we went to the safe house. Dad of course was furious that we broke the law. Lois was ticked at me for telling them about going there and then what does she do she blabs about the helicopter!




She of course takes the opportunity to hi-tail it out of there so I can get my ass kicked with the guilt paddle by Dad all by myself. The only good thing was I got to watch Lois go up the stairs and leave me alone.

Did I mention that I love her legs even covered in denim?

*Whimper*

Damn the cows need to be fed. Back in a while.

Clark
---
Dear Diary,

Ok cows have been fed.

So the next day I'm trying to get myself comfortable on the couch…you know since I gallantly gave over my comfortable bed to Lois to sleep in and I hear someone creeping down the stairs.




I can tell by the confident, very un-girly stride that it's Lois. So I you know, give her a show and flex my muscles around. I hear her stop by the door and with my superhearing activated heard her gulp.




HA!

Then I wondered where the hell did she go at the crack of dawn? I mean it's not like she knows anyone in Smallville. Unfortunately I couldn't track her down because the tractor had broken down again and needed fixing.

Little did I know that Lois being Lois decided I MUST be lying to her and had to verify for herself that Chloe's grave was indeed empty. So she dug up her cousin's grave and got herself filthy in the process…she looks rather cute w/ dirt and twigs in her hair…




Anyways after confirming that indeed Chloe was alive or at least not in her grave and I was not crazy…ok I have no real confirmation that she thought that about me, but at least she now believes me that Chloe's not dead.

She got her first taste of life in Smallville as some freak w/ a sword fetish sprung up on her and tried to turn her into mince meat. Little did I know that she would find herself being rescued by Lana. Lana…can you believe it? The girl who can't tie her own shoe without the shoelace unexpectedly reaching up and trying to strangle her actually saved the day!




Anyways I'm working on the tractor and Lana's Jeep comes up and she leaps out of it to say hello to me. I'm happy to see her, I mean we didn't exactly leave things off on the best of terms. And then Lois came out of the truck. Lana had a weird look on her face that I couldn't read. Maybe it was because my eyes burning from the sight of Lois being with Lana and apparently they were getting along fine.




I confess seeing both Lois and Lana in one place together nearly made my heat vision activate. God they're both so beautiful...Lana was perfect and wearing these very stylish clothes and Lois…Lois was a mess.




Then Lois had to blab about Lana having a hot fling in Paris. That woman can kick me in the gut without exerting any energy at all, I swear her mouth is more deadly than any other part of her body. *Sigh* She then seemed mystified that Lana and I might've had a past together…I don't know what she's thinking. I mean, I think that she's hot, why wouldn't she think I'd think the prettiest girl in Smallville was hot too? I have good taste in women.

CRAP I did it again…ok you can't read that. Anyways, Lana then tried to corner me into having her help to find Chloe. I suddenly was very uncomfortable, why would she want to help out? This was Lois's quest, not hers. So I moved away from her protectively towards Lois and told her that we didn't know anything and she just gave me that weird look again. She seemed REALLY uncomfortable. I guess she must've been guilty about her fling in Paris. I mean she couldn't actually be jealous of me and Lois? Pfft as if!

Lois appeared somewhat sympathetic about how awkward things were between Lana and I but you know I had to do my usual thing and snark at her and couldn't let her actually try to comfort me…because that would've been weird.

She said, The awkwardness is just getting started.

I replied, Must be a regular occurrence with you.

She had to shoot back, Only when I'm walking into a train wreck.




Train wreck…that's a good word to describe Lana's and my relationship. I spent the rest of the day stewing over that when Lois chased me into the barn in the evening blathering about something regarding the Luthors paying for Chloe's funeral.

I didn't hear her I was too deep into my thoughts. She was rather shocked that I was shell shocked still after seeing Lana again.





Wow she didn't take any prisoners did she?...I can see why you're in love with her.

I really didn't want to talk about Lana to Lois, but who else could I talk to? Mom? Dad? Maybe, but with Chloe gone I didn't have anyone so I decided to confide in her. I'm trying to tell her how I feel and Lois butts in and finishes my sentences!




She then of course has be snotty when I demanded to know why she felt the need to finish everyone's sentences she asked, Well was I right?

Damn it!

I'M NOT UNCOMPLICATED!

I was about to lay into her when it felt like the world was about to explode – light and noise was everywhere.




CRAP! They found us! They somehow knew I took down that helicopter!

*Gulp* They were going to probe my alien ass.

Lois grabbed my hand and tried to run off when suddenly this stern looking General appeared in on my loft. Terror in levels that I've never experienced in my life coursed through my body, and then Lois said the one thing I never would've expected.

Hi Daddy.




To say I was horrified was an understatement. Her father looked MEAN. So I decided it was time to return the favor from the other morning and hi-tailed it out of there and let her take the beating from her Dad on her own.

Seriously, I think Lois puts the FUN in dysfunctional when it comes to family dynamics. I do have to say though seeing her actually stand up to her 3 Star General father was a turn on.




She wore cargo pants – they didn't do a lot for her legs, but she was wearing a great low cut tank top. I was rather fixated on her outfit choice when she suddenly came over and hugged me. HUGGED ME! WTF???




My Dad meanwhile rolled his shoulders and flashed me one of the biggest most disappointed and frustrated expressions I'd ever seen. Lois whispered to me that her father was taking her away because of Chloe and wanted me to figure out the connection to Luthorcorp…oh yeah, that's what she was talking about in the barn.

I was rather in shock. She smelled really good.

She gave me this smile and left with her Dad. I think a bulb must've gone out in the kitchen somewhere because it suddenly felt a lot darker in there when the door closed behind them.




God I was confused.

Mom's calling for dinner. Back later.

Clark
---
I dedicate this post to Charles Schultz (creator of Peanuts) and the man who's ice rink I learned to skate in (somewhere I have a signed hand drawn pic of Snoopy that he drew for me when I took lessons there) – the man who introduced the wonderful term "AAUURRRGGGHHH!!!" into my vocabulary. A term I lovingly use on a frequent basis


Also - you just HAD to know that I'd have to eventually add some of my own artwork into this story at some point




Dear Diary,

Where was I? Oh yeah the investigation continues. So I confronted Lex to find out why the Luthors paid for Chloe's funeral, he flat out lied to my face and told me that Chloe was dead…blown to bits in fact. While there I found a butt of one of Lois's Dads cigars in Lex's ashtrays…more proof of Lex's continued dishonesty and betrayal of me.




Seriously I still can't shake the visions of that funhouse of horrors that I found in the mansion last summer. God, I knew that Lex always wanted my life and to be like me, but seeing all of those photos of me…it was creepy. I mean have I been wrong all along…does he want me? Hello dude have I not talked about Lana enough around you to know that I AM STRAIGHT! God I thought for sure he was hetero but now I'm not so sure. I still feel dirty even thinking of it.

*Shudders*

So after shaking the stink of Lex off of me I rush to the military base to find Lois. She wasn't in her father's house and I located her using my x-ray vision inside an office building only to find her rifling through her father's private files!




I confronted her on this and told her…ok I scolded her, that I didn't think it would be the best idea since her father had a whole battalion of tanks right outside the door, she just laughed me off and told me that she was impressed to see I'd managed to sneak my way onto the base.

I impressed Lois Lane with my sneakiness.

Hee hee. I still get giddy thinking about that, she has NO idea how sneaky I am.




Anyways she tells me that the helicopter chase was nothing that her father gave her a military style escort to the prom…seriously her family has major issues. It's rather amazing that Lois has turned out as well as she has considering her tough upbringing.

She then did something that rather amazed me she opened up and told me about how after her Mom died her Dad got rather cold and overprotective of her. She didn't have a panic freak attack at wanting to talk about her mother either. It was a pleasant change from having to always dance around worrying about Lana's feelings whenever the subject of the meteor-shower that killed her parents would come up in conversation.




It's rather refreshing having a friend who you don't have to worry about needing to bust out the Kleenex every time you happen to say the wrong thing. Lois has a strength to her that I don't know if I've seen in another person before…she fascinates me, rather like an unusual bug…must study her further.

Friend…I mean friend type person. Well Ok she's now a friend. Then I don't know what I would've considered her to be. Oh forget it Clark, you know you trusted her from the second you laid eyes on her and she dragged your naked butt into her car. She's a friend – always has been, always will be.

*Sigh*

A friend who irritates the crap out of me, at least I have no need for enemas.




Anyways not wanting to further step all over the personal issue I helped to rifle through her father's papers with her. She was impressed that I figured out who her father was working for. I discovered that Chloe was using an alias of Nelly Blythe to cover General Lane's involvement in keeping her protected. When Lois read off the address I split out of there leaving her confused and alone.

LOL! I would've loved to have seen her confused face, I bet it was priceless.




So I get to the Safe house and see that Chloe had been there and started a new wall of weird. Her guards were dead and of course who shows up but LEX! Rat bastard! If he'd only told me the truth I would've gone straight to the safe house and been able to save her and the guards probably wouldn't be dead.

I was angry, ticked off, and ready to kick some FREAK ass.




So after Lex learned where Chloe was located I buzzed over to an old abandoned factory and found the Sword wielding freak who Lois met at the graveyard. Pissed off and desperately needing to prove myself, his steel was nothing against the Man of Steel.




He was certainly one of the more interesting freaks that I'd come across, didn't mean he was resistant to my being able to chuck him half way across the factory though. Ha! I bet Lois wouldn't have thought I was a dork if she saw me do that to him!




So I go to punch him and I fell right through the freak – What the HELL? It's like he's the Terminator or something…you know the cool liquid metal one not Arnold. When I reposition myself to attack again I find that his attention is elsewhere…who arrived but Sarah Conner…I mean Lois Lane wielding one of those military industrial stunners that one of the ops guys threatened me w/ yesterday.




Lois was doing OK but needed help, so I fried the freak from the back with my heat vision. Apparently highly charged electricity and heat was the right combo to make the freak combust. Together Lois and I defeated Terminator.




I have to say, Lois and I make a great team. Unfortunately she didn't see it that way, all she saw was that the sword guy was about to slice and dice me and she came in to rescue my ass from being chopped into little bits. God, she must think I'm a first class wimp.




She smugly had to say, "I don't know how you lived without me." Obviously she now sees herself as my protector. Can you believe that??? Me needing HER to protect me???

Good LORD just when I thought I was warming up to Lois she has to say something stuck up like that.

*AAAUUUURRRGGGGGHHHHH*

HEAT VISON WOMAN!

*Sigh*

You know the one weird thing? She happened to mention that Chloe told her Smallville was weird and she just shrugged off what happened to the freak. She didn't turn and try to give me the third degree to overanalyze and try to figure out what the freak was or where it came from. She just accepted it and moved onto gloating.

She really confuses me, normal people don't usually accept the abnormal without questioning it. *Sigh*

Can I just add she looked smokin' hot wielding that stunner? Damn, I could never see Chloe or Lana doing anything like that – nor would I want to. Lois is a one of a kind – she fascinates me - even if she does irritate me to no end. Rather like an itch that's on your back that you can't quite reach and drives you crazy until you manage to find a way to scratch it. Then you usually get a few moments of blissful relief before the itch returns in full fury.




So I find Chloe and wake her up after being knocked out, she's happy to see me, I'm happy to see her. She's blown away over seeing Lois. Lois is very emotional and tells her that she wanted to erase the worst two months of her life. I smile, it was nice seeing Lois happy and Chloe safe.




Then Lois had to ruin all of the good feelings that were buzzing in my chest as she said, "It's a good thing I was here to find you."

"I?"

*AAUUURRRRGGGGH!* MUST…NOT…STAB…SELF…WITH…PEN.




Chloe noticed that her cousin and I seemed to have this brewing animosity together because she meekly asked us to get her out of there. Both Lois and I wrapped our arms around Chloe's back and lead her to safety so she could goto court the next day and put Lionel Luthor in jail.




Chloe's pluck put Lionel Luthor in prison for killing his parents. I was happy to see justice be served. Most importantly though I was excited to look at the article that was on the front page of The Daily Planet. It was written by Perry White. It looks like Chloe's determination not only saved her own life but helped to put Perry's career back on track.




Of course there's the darkening threat of Lex. I went down to the Kawatche caves to contemplate the cave paintings of Namen and Sageeth when who do I find but Lana. I don't know what she was doing there isn't she worried that she'll trip and hit her pretty head?

She told me she couldn't believe we got over each other so quickly. I stared at her like she sprouted a second head – maybe she really did fall on her way in? Who was she talking about?

Can you believe she said LOIS?

LOIS!!

She actually thought LOIS and I were a couple!!!

LMAO!




I stared at her in disbelief and argued, "She's bossy..." Lana just smiled insipidly at me. I added, "She's stuck up and rude – I can't stand her!"




I thought she'd be happy to hear I was vehemently denying having any feelings for Lois, instead she smiled and said, "The best ones always start that way."

Then I remembered Lois's long legs and all I could do is stand there in stunned silence with a dopey smirk on my face.




Lois returned to the barracks with her father and life on the farm briefly returned to normal. Little did I know that Lois Lane was far from being out of my life – in fact she was about to invade it like a plague of locusts – devouring all of my attention, getting under my skin, eating away my patience, and constantly yammering my ears off.

Back a bit later, time for bed and to dream of Lois…I mean Lana.


Clark
---
Dear Diary,

So it's another day on the farm and I was just hanging out before school throwing around the old football and dreaming of days of glory that will unfortunately never come my way.




I'd just chucked the football in through the center of a tire after catching my own throw when I hear a car door slam shut.




I briefly found myself incapable of speech – for who was strutting towards me but Lois Lane. I wondered if she'd recognize the shirt I was wearing. It was the same one she put on on that day we were chased by the helicopter. A vision of Lois's bare legs again came into my mind and my eyes wandered that way again.




She had on this off white jacket that was tied above her stomach and it just managed to accentuate how tall she was...damn those smoking hot low rise jeans again...they made me almost forget that she was talking to me.

Lois actually complimented me on my throw and asked "farmboy" aka me when the big game was. When I told her I wasn't on the team she gave me one of her famous "You're pathetic" looks and asked Why not? You obviously want to.




How could I tell her that my father forbid me from playing? And that I could hurt someone on that field? I couldn't tell her, and it annoyed me actually because she seemed genuinely concerned...until she opened her mouth again and said, That's a one way ticket out of geek if I've ever heard one.




Geek? She thinks I'm a GEEK??? A dork I can get...but a GEEK???

Excuse me, do I wear glasses that are too large for my face, slick gallons of axle grease in my hair, wear out of style clothes with suspenders, and bumble all over the place incapable of coherently speaking to a member of the opposite sex????? Pffft! Not in THIS lifetime!




I, of course couldn't let THAT totally degrading and WRONG assessment pass me by and said that it's complicated why I couldn't play and then I took the high road and added I even if I could play it wouldn't do it for that reason. I also added, I don't really see myself as a Geek.

She had to spit back, And what do you see yourself as?




I told her I saw myself as an outsider. She replied, Boy that sounds like a recipe for wedgies.

Seriously...if her father hadn't show up at that moment I didn't know what I would've done. I snarked and growled that gee I was going to miss her A LOT. HA! Right!




I've never gotten a wedgie in all of my life thank you very much! Although I guess if there's one person out there who'd probably give it a try it would be Lois!

*Reminds self NOT to expose my backside to her anytime soon and ALWAYS keep my shirts way untucked around her.*

Ok I'm sorry I'm not letting this go. She just freaking saw me throw a football through the center of a moving tire – why would she think I'm a GEEK?? Do geeks even know how to throw footballs?

GOD!

Why does she always dismiss me?

Lucky for me her attention was now fully focused on her father, oh sure she was all sweet smiles to him, bet she never called HIM a geek. Then again knowing the General he'd probably clobber her if she did that. Naw, Lois is tough and fast enough, she'd take him down first.

**Sigh**

Lois rocks.




Anyways Lois tells her father that she's not too late and can still make it to orientation and he tells her not to worry about getting to Met U – they just pulled her acceptance.

When Lois asked why, he told her that she never fully graduated from high school because she flunked out her last semester.

OH...MY...GOD! I couldn't believe my ears.

Did Christmas come early???? I'd never heard anything so funny in my life. I couldn't help myself and belted out laughing.




Then I suddenly realized that both Lanes were glaring at me with looks that made me VERY glad that THEY weren't Kryptonians...they would've heat vision fried my ass right there and then!




So I sobered myself just enough to see General Lane get this huge grin on his face and say that he was sure that I'd be happy to show Lois around.




A fear like I've never experienced in my life suddenly writhed in my gut and we both simultaneously asked, Around where?

The General freaking grinned like a Leprechaun on St. Patrick's day diving head first into a gallon of Guinness and told us that Lois has been enrolled in Smallville High.




If Christmas came early – I just got majorly Scrooged.

There's only one word to describe my feelings in this matter.

CRAP!

I have to do chores, back in a bit.

Clark
---
Dear Diary,

Alright so I guess I should give you a little history on what's going on here, Abigail Fine was a girl in my class who was seriously affected by bad acne. I always felt bad for her because from the beginning of freshman year Brett Anderson, one of the football jocks, came up with a really mean knick-name for her – he called her Scabby Abby. I never cared about her face she was a nice girl. We would hang out sometimes since we were both outsiders.




Anyways, Loudmouth Lane arrived at her first day of school with Chloe and was already complaining a million miles a minute about being dumped in po-dunk High. Pffft! If she'd gone to class in the first place she wouldn't be stuck here! Seriously, learn to take some responsibility for your own actions Lois! Less gabbing and more studying!




Anyways she was telling Chloe that she only had 5 credits to make up and Chloe of course told her that she'd need an extracurricular in order to accomplish that feat in one semester. Chloe, always being one to never miss an opportunity to pimp out the Torch invited her cousin to join the staff.

Lois laughed her off saying that she had zero interest in being a reporter. Chloe was so right that if there's anyone who would make a great reporter it would be "Miss I stick my nose in EVERYONE's business Lois Lane."




So I was inside staring longingly at the poster for football tryouts when a group of jocks started whistling at a hot new girl. Of course I turned to see what the commotion was about, I mean I'm single and male – what else am I expected to do?




Hooha! Man she was smoking!




I found myself in further shock when she said hello to me by name. As I stared at her I realized that I recognized her as none other than Abby Fine! I followed her to her locker and asked why the big change. She said it was her senior year and wanted what everyone else has in High School and was tired of sitting things out.




"It's our last chance, Clark," She said.

I admit I thought she was hot, who wouldn't you know? But mostly I liked the change in her personality – she seemed happy with herself. If getting some work done to clear up her skin and having a few enhancements done helped to her made her feel great, who was I to judge?




This of course was precisely what Chloe and Lois were doing at their lockers. Chloe informed Lois that Abby had a lot of work done and Lois was appalled, she said, "Isn't that like messing with the batter before the cookies are baked?"

Chloe was very blasé over the whole thing. Lois should've known she was about to be set up – but blindly stepped right into that steaming cow pie that Chloe had shoveled in front of her.

**God I AM a dorky farm boy, aren't I? Great analogy there Kent.**




I arrived about then and said I thought Abby looked great.

Lois gave me one of her Gloira Steinem looks and groaned, "Oh what a shocker! That's a problem with High School everything's a façade."

Chloe went in for the kill and said, "Sounds like you found your first article for the Torch!"




SUCKER!

No one reverse psychologies a person better than Chloe Sullivan. I laughed, Lois is so clueless.

Lois knew she'd been had, rolled her eyes and chased after us demanding that Chloe make sure that she gets her extra credit.




Later that day after reflecting on Lois telling me that it was obvious I really wanted to play football and Abby taking her risk, I decided that I was going to go for the one thing I've always wanted – a one way ticket out of geekville and join the football team.

Wait, no that's not WHY I want to do it, I mean I've always wanted to play, to be a part of team, to be accepted by others. To feel what it's like to be a winner.

I went to the new assistant coach and said I wanted to try out for the team. For some reason Lana was in his office and I was excited to see that the couch was Jason Teague. I remember him playing for the Bulldogs and he was amazing. I couldn't believe my luck that I might learn the game from him.




When I announced I wanted to play he just said that I certainly looked big enough – so I guess that means I'm in for tryouts. Lana looked at me like I was from Mars.

Seriously, why are the girls in my life surprised when I want to do something that seems out of the ordinary? Am I really that predictable? Why would it seem weird that a guy who's in great shape would want to play on the school's sports team?




Growing up I always watched football with my Dad. Every Sunday after chores we'd spend hours watching the NFL. College ball dominated our TV also. I loved the game and most importantly I loved the role of the Quarterback. The quarterback is the team leader – he's the strategizer, the brains on the field.

My hero was always Steve Young from the 49ers. He was smart, college grad, and led his team to winning seasons each year he was starting quarterback for his team. He even earned his law degree while playing pro ball. I guess I always admired him because I sorta looked like him, same hair color and eye color – he was a good role model for me as a kid.




Was it really wrong that I wanted a little bit of that glory for myself? If I ended up on the team I could only hope that I'd be able to share his same number – the number 8.

As I was gearing up Coach Teague told me that he needed my permission slip and he immediately realized that I was defying my Dad in trying out. He's pretty smart, I must say. He told me that he's seen a lot of guys try out just so that they can wear a letterman jacket and be that big man on campus.




I told him that wasn't why I was doing it. I also wasn't doing it to defy my Dad. I just wanted the chance to play. He looked past my disobedience and told me to get out on the field and show him what I've got.

At that moment, I'd never been happier than I could remember in all of my life. I knew that with my powers I'd be at an advantage on that field, but I also knew myself that I'd never allow for my powers to come out and use them to win a game. I'm incapable of cheating – it's dishonest and after my Summer in Metropolis where I flaunted my powers and used them for nothing but selfish gain, I've learned my lesson. I won't do it again.




*Sigh* Horse stalls need to be mucked, back in a bit to talk about my tryout and what happened next.

Clark
---
Dear Diary,

Alright so it's now less stinky here in the barn. Where was I? Oh yeah, football practice. So Coach Teague let me go out and show off what I had in the way of skills. Because I wasn't a brute who'd be perfect for defense he told me I could throw a few passes. So full of determination I approached the guys and prepared to show my stuff.






I threw the ball and knocked down the wide receiver with my throw! Coach was impressed and after a bunch more throws I felt pretty good about being asked to join the team. Me, Clark Kent on the team! Wow!





So meanwhile outside Lois was driving like a maniac yakking on her phone trying to get out of "cream corn capital of the world" when she said the one thing that nobody should ever say, especially when they have as bad of car karma as she does, she asked "could this day get any worse?"

Leave it to Lois to find the one person in the parking lot to run into with her car.




Ok that's not exactly fair, Brett Anderson ran out in front of her, but still, if she'd had both hands on the steering wheel she probably could've avoided the accident…or if I'd been there. *Sigh* Why do I always miss the opportunity to be Lois's knight in shining armor?

Why do I feel the overwhelming need to prove myself to her? I don't want anyone to know I have powers, why should Lois be any different?

I had just come out of the locker room after practice and found her surrounded by cops. I immediately ran over to her to find out what happened. She was a little shaken up. I kinda felt like offering her a hug but she immediately started yammering so I guess she wasn't that shook up over the accident. She looked kinda cute when she was all concerned.





She said Brett was going to be alright physically and accused him of snapping under pressure. Brett's one of our star players, Lois must be nuts, if anything, I told her he was over confident.




I tried concentrating on what she was saying, but the girl kept flashing her cleavage at me. *God*




Apparently the cops thought Brett had cracked under pressure. She then asked me "Do you want to tell me why he was running around half naked and soaking wet?"

I then saw Abby standing on the sideline and remember seeing Brett ogling her out on the practice field and wondered if something had happened between them so I headed back to the boys locker room.

*Look at that one day on the football team and I'm already making football analogies…get it sideline? Hey it's better than comparing things to cowpies, right?*

Anyway guess who seemed to want to follow me inside the boys locker room? You got it, Miss I have no Shame Lane. Seriously! She storms in on me when we're at my house and I'm stark naked and now she's upping her chances of catching more guys in the buff – I wonder if she's got a problem. Does she challenge herself with seeing how many men she can spy naked per month? Because she's doing a banner job so far! Maybe she's a peeping Sally! Boy that would explain A LOT!

I was about to bring this up when I realized that not only was Lois attempting to follow me but she actually BARGED in alongside me!

I told her "Hey hey last time I checked you were missing some of the pre-requisites for being in here."




Want to know how she responded to that? She planted her little chicken arms on her hips and tossed her head and said, "So you HAVE been checking me out!"




OH DEAR GOD! *Gulp* I think she caught me catching a glimpse of her chest in the parking lot! Dammit! NOT smooth Kent. I suddenly realized we had an audience and I tried to recover and politely asked her to wait outside, which you know was kind considering that I really wanted to throw her over my shoulder , speed her out of there, drop her off in Cincinnati, and return to investigate on my own. Lord only knows I'd get more accomplished than having her around swinging her shapely hips my way, tossing her long hair, and flashing me those smiles with her cute big deep dimples of hers.

Oh you know what's coming….I have to erase THAT line.




I happen to glance around and all of the guys in the locker room are now scoping out Lois and checking out her ass. I stare at them disapprovingly, but hey what can I say? They have good taste.

So she of course flat out refuses to leave and insists that Brett's going off of the deep end is a juicier story than her teen cosmetic story.




She then brushes past me as if I'm not nothing more than a locker and begins questioning the jocks.

I sneak one last look at Lois's legs and then start looking around the room for clues.




Behind me I hear some of the guys making cheap come ons to Lois, she of course throws them back like cheap knockoff designer perfume samples. I looked back at her to make sure that she's alright, but I can't picture pick up lines ever working on Lois, she's probably memorized a dictionary filled w/ sarcastic comebacks that are certain to emasculate any male who comes within a 100 mile radius of her. Hell if she hasn't read one, she could probably write one! For some reason I find that thought comforting and went ahead with my investigating.

Wandering around the locker room I found clues to indicate that Brett was definitely in the shower and he wasn't alone. I found his discarded jersey and Abby's necklace.




Suddenly a memory of Lois entering the bathroom on me flashed in my mind for some reason. I then realized something, man, I was an idiot that day. Maybe she came in there wearing my shirt because she WANTED a nooner! Did I miss my chance?

Did I want that chance? I mean yeah she's hot, but she's not Lana. Then again Lana is ancient news and Lois just keeps invading my life – my thoughts and now the sanctuary of my school too. She's everywhere.

I can still smell her shampoo and unlike Lana she actually gives low cut blouses a reason for existing. *Sigh*

Such tantalizing visions continued to plague me as I returned home after parting ways with Lois. Once I arrived I was greeted in a manner that was certain to kill any and all fantasies that I might have been enjoying. Dad congratulated me.

Crap! Coach Quiggly called him personally to let him know I made the team.




Dad immediately climbed high into his pulpit and began preaching about how it would never be a fair game with me out there on that field and that I would find myself using my abilities to make sure we would always win. I was appalled. How could he think I would cross that line?




I threw it back at him that it wasn't fair that I couldn't have memories of football. I told him I was sick of begging for chances to have the same kind of chances that he did.

I walked away from him. I don't think I've ever told my father off like that, it felt great and horrible at the same time.




Wow, that was a crappy first day back to school now that I look back on it. Leave it to Dad to take the one good thing out of the day and making me feel depressed about it. I guess that's why he was the cruise director of guilt trips.

*Sigh*

I miss my Dad. He kept me on the straight path. Even though I often resented him everything he said and did was out of love for me. I feel lost without him here to guide me. I worry that I'll never have even half of his strength. Being able to physically move a mountain is one thing, but convincing a tiny boy that he CAN move a mountain, that takes real strength. I wonder if I'll ever find someone who'll help me to believe in myself like that again. Somehow I doubt it.

I have to get to bed.

Goodnight.

Clark
---
Dear Diary,

So you already know I'm a geek, why wouldn't it surprise you that I'd head to school on Saturday to hang out with Chloe and try to get to the bottom of Brett's strange behavior? Oh yeah and Lana somehow also seemed to have become strangely affected in a similar manner and was, yet again, in the hospital. Seriously, they should just keep a room open and waiting for her considering how accident prone she is.

Wait, I'm NOT a geek. **Sigh** Of course going willingly to your high school on weekends MAKES you a geek, CLARK. Well at least a pseudo jock type w/ geekish qualities.

Damn that Lois!

So anyways, I start chatting with Chloe and we determine that something must've gone haywire with Abby's surgery since I found her necklace in the boys locker room along w/ Brett's discarded jersey, she must've done something to him to make him go all crazy and run in front of Lois's car.




Really? I mean come on Abby – the guy made your life hell and then you made out with him? Talk about being desperate. Sheesh. What would make someone do something like that? That's just SICK and wrong...it would be like...like...like me deciding to up and marry Alicia Baker!

**God**




Anyways based on some of Lois's initial findings in her investigatiom of her plastic surgery article Chloe learned that Abby's mom was experimenting w/ this new treatment that caused people's serotonin levels to go through the roof. We could only assume that somehow she was passing something to those she came in contact with.

Of course I asked how Lana could've gotten infected and Chloe didn't know. I'm a guy and naturally only one possible scenario on how it could've happened entered my mind...




Pfft! Only in my dreams.

My hormonal fantasies were shattered when Chloe mentioned that Lois appeared to be on top of things and had made an appointment this morning to visit Dr. Fine.

I only knew one thing – that I must be needed and this time I could actually prove to Lois that I WASN'T a geek and would rescue her from being turned into something unnatural!




Why in the world Lois thought that she'd be able to pull off thinking she needed plastic surgery is beyond me. If there is one person who doesn't need any physical enhancements or alterations it's Lois Lane. A personality enhancement or vocalectomy maybe...but physically dear lord GOD that girl DOES NOT need surgery. She's perfect just the way she is.




Apparently the doctor thought so too and got suspicious of her when her tape recorder went off. Loudmouth went off on Dr. Fine saying that beauty was found on the inside and that she was going to expose her fraudulent freakish sugery practices to the world.




Dr. Fine of course nailed her with some sort of stunning agent and Lois became a victim of Dr. Barbiestein's freakfest.




Lois woke up and discovered herself to be strapped onto a table with Dr. Freakenstien breathing down her neck and explained that she was going to give Lois the big scoop and see what it was like for Abby all of those years for being teased.




Dr. Fine then started to enclose Lois in her surgery coffin and was preparing to inject her with god only knew what to make her ugly!

I arrived just in time to see what was going on and raced to the operating room in order to save Miss Lois Lane!




I ran right through the door shattering it into a million shards of glass. (I'm quite the stud, aren't I?) Darn, I looked around and Lois was trapped inside a huge sarcophagus thingy and didn't see me!

So using my super strength I ripped the damn thing open! HA! She has GOT to be impressed by THAT!




GOD DAMMIT! FREAKING KRYPTONITE! What is it with Doctors and scientists in Smallville? Why do they all seem to want to jump on the "Meteor rocks will cure all of our ills?" train? Seriously!

Do I even have to tell you what happened next? Oh yes, of course I do because an adventure with Lois wouldn't be complete without me coming off like a complete IDIOT! Of course getting the damned stuff blown right into my face I lost all of my strength, began gasping for air like a pansy, and then to make matters even worse, I got CLOBBERED by 90lb Dr. Freakenstein, and was immediately knocked out and sprawled onto the floor.

God I was humiliated. Is it any wonder that Lois thinks I'm a complete wuss?




Lois of course then pulled out her Sarah Conner grit and managed to wiggle her way out of the restraints on her own, jumped off of the table, and ran to my rescue. There was absolutely nothing I could do at this point but meekly beg, "Lois help me."

I was so ill I barely even noticed that she wore next to nothing and her long tanned legs were completely bare. **Wimper**




To further add insult to injury as she was leading her pathetically wimpy farmboy friend out of the room, she sucker kicked Dr. Fine in the face and called her a bitch.

Damn I love that woman. Err...strictly in a "I respect the hell out of her kind of way" not THAT way. Give me a freaking break! AS IF!

The next school day I came home late after practice and Dad was still all grumbly about it. I told my Dad that I wasn't leaving the team and that I was staying on it. He told me if I wanted to be treated like an adult I couldn't act like a child and keep secrets from him.




I nodded – Dad was right. Keeping secrets was wrong. I responded back by asking him if he was going to let a Junior Coach teach me to play football. Dad grinned, took my ball and told me to go deep. We had a great time and he gave me a lot of great pointers. Male bonding rules. Belch!




The next day Lois found herself proudly rereading her first byline in the Torch. Chloe told her that her article about the plastic surgery struck a chord w/ the kids in the school and she even got fan mail! Apparently Abby's mom was now off in Belle Rieve where every freak in Smallville eventually finds themselves. I confess, I read the article and was impressed by the depth of information that Lois filled her article with. She could actually be a reporter someday – she's got mad skills...not that I'd ever tell her that, of course.

Chloe then dragged Lois off to the pep rally.




Every year the football team picks on someone to be chosen to be dunked in a dunk tank as a great fun prank at the annual pep rally.

Guess who was chosen this year?

Was it some hot new Freshman girl? No. Abby wasn't around so she couldn't be chosen...oh no, the guys thought it was hysterical and threw ME up there! **Rolls eyes**

Of course once Lois arrived and saw who was being served up as main course, she volunteered to try to get me wet.

HA! She missed!




Knowing that I would have a difficult time ever impressing her with my strength after our last encounter, I decided to impress her with my amazing wit. I folded my arms over my chest, threw back my head and taunted her "Come on Lois, didn't the boys at the base teach you anything?"

Always quick with a sharp retort, she spat back, "Wouldn't you like to know?"




She then added, "You're going down!"

I saw that the target was tiny and there wasn't a rats ass chance in hell that she'd actually hit it, I laughed and said, "That'll be the day."

Apparently that was the right thing to say to get Lois good and pissed off at me.




OH CRAP!!




You know, I think I've discovered Lois Lane's purpose for being on this planet, it's to humilate me! She freaking hit the target and I went into the pool with a mighty splash.

Lois, quite rightfully, of course celebrated and howled with delight.




I bounced up and have to say that I was grinning like a madman. Good lord that woman NEVER ceases to surprise me. Just when I think I've got her figured out she literally makes me wet behind the ears.




Flashing a megawatt grin that would've lit up the state of Kansas Lois ran up to me and tussled my hair like I was a shaggy dog needing shampoo rubbed in. Or maybe she just wanted to further rub it in that she bested me, yet again.

She swung her ponytail at me and was oh so very proud of herself. God she was adorable.




So of course I flung water at her and then shook my wet head again hoping to get her wet. What else could I do but admit defeat? I'd been bested by my equal.




I know what you must think, up to this point I hadn't really done anything that would make me her equal – but come on, you know what I can do? I guess keeping up a facade about my abilities around Lois wasn't too bad. She was an extraordinary person who could actually take care of herself and even better yet, could save me...save me from a life of boredom.

How could anyone possibly resist a smile like that from Lois? I mean I'd always thought she was hot and pretty in a very down to earth meets look at me funny and I'll kick your ass kind of way – but when she smiled at me like she did on that day I had the strangest giddy butterflies dancing around in my belly. All that I remember from that afternoon was Lois, beautiful Lois with the setting sun behind her lighting her hair from behind that only seemed to make her smile shine even brighter.

Yep, I'm not even going to scratch that out because it's the truth.




When I look back on my Senior year I immediately remember two things 1) winning the State Championship and 2) Lois Lane dunking me at the pep rally. Those were the two most singularly happiest moments of my entire High School life. And for the life of me, I couldn't tell you why having Lois dunk me meant so much to me...at the time at least I had no idea.

How can one ever know that the very thing that you understand the least will one day become one of the best things to ever happen to you? I certainly didn't at the time. I barely knew who I was, let alone undestand that the very first piece of a puzzle had been placed on a table and that even though it would take a long time to complete when it was done the image that would finally be filled in would bring me more joy than I could ever have hoped to experience in my life.

Oh good lord – only geeks get excited about puzzles.

**Sigh**


Sincerely,

Geek boy Kent
---
Dear Diary,

So it was my first official practice and after warming up found myself sitting on the bench and watching the action from the sidelines just like the looser that I've always been. Coach Teague asked me how I was doing and I told him truthfully that I didn't much like it. He reminded me that Coach Quiggly already had a set team but he promised to chat me up to him.




I saw and knew the way the guys acted together, it would take a major miracle to end up on the field at all this season. I was bummed, I didn't want to get on the team and not play.

A miracle it seems is just what the doctor ordered. Unbeknowst to me Mandy the head cheerleader was off chatting up her boyfriend and team quarterback Danny on the sidelines and was whining about not getting enough time with him.




She gave him some sort of a sports drink and suddenly he was looking at her like she was the Vigin Mary herself. After Coach Teague read him the riot act for ditching practice Coach called me in to play in Danny's place!




My dreams got answered and I got to show off my stuff. The guys were a bit resentful and told me not to get too comfortable...whatever, I wasn't doing this to be their friends I just wanted to play. I let my golden arm do it's thing and I could see that Coach Teague was again impressed.




Anyways after practice I was finishing up in the lockerroom when I heard a commotion. Coach Teague was shouting at Danny about something. All I heard was something about staying away from his girl.




Holy crap! Danny just shot off a round of buckshot at Coach Teague! I mean give me a BREAK! Mandy may have a hot little body but she's got cotton candy for brains. Why would any guy want to risk expulsion from school over her? Someone as hot as Lois Lana...I could understand...but Mandy??

Naturally my instincts kicked in and I supersped towards Coach and knocked him out of the way and then heat visioned the rifle in Danny's hands.




Damn and all I wanted was to play ball. I never thought that I'd end up having to use my abilities to save my Coach's life. Good news is I think I probably safely secured a place of honor in his eyes at least – I doubt I'll be warming the bench anymore! Yes!!

Anyway next day at school Loudmouth Lane entered with her cell phone glued to her head yammering and pleading to the Met U Dean's assistant to please get the Dean of the University to call her back.




She breezed right past me not even noticing me at my locker sporting my new letterman jacket. I shouted something witty to get her attention, "You know if you spent nearly as much time studying as you would trying to leave, you'd be in college already."

She flashed me one of her famous "you're pathetic" smiles and asked, "Where'd you learn that little pearl of wisdom from, the Farmer's Almanac?"

Here we go again with the Geek farmboy references. Really, Lois, isn't that routine getting old by now?

I humored her though and laughed. I also flashed her one of my hard to resist smiles. I mean really how could she, you know?




So I changed the subject and puffed out my chest and proudly showed her my new jacket and asked, "So What do you think?"

She actually scoffed at me and said, "They're not really your colors." Weren't my colors? Hello! It's the school's colors and isn't like ½ of my wardrobe red and yellow?

Seriously what does a guy have to do to impress a girl like Lois Lane? She just walked off and kept babbling, "Really Clark I'm happy you made the team, but why do you have to be a conformist? At least with the farmboy plaid thing, as lame as it is, at least is's entirely your own."

What the hell? I really don't understand her, she nearly pushed me into trying out for the team then when I make it and want to just enjoy a few of the perk.s that go with it, she has to insult me! She's like a faulty Tootsie Pop where you keep licking to try to get to the good part and somehow it seems that no matter how much you lick there's no chewy chocolatey center – it's all just hard, crunchy candy that leaves you clenching your teeth in annoyance and feeling very unsatisfied.




You know I could've asked her why she went along with fashion and had to always wear such low slung pants that always managed to hover below the bottom of her shirt. She was always showing off a small, tantelizing strip of her tanned back...why would she DO that to a guy? Why would she feel the need to follow that fashion trend? Doesn't she see that she's being a conformist herself?

**God bless her for that**

Yeah, you know it, I said nothing of the sort, why run the risk of her running out and changing her wardrobe just to spite me and giving me nothing to look at? I just know she'd run out and buy shapeless overalls and big baggy shirts. Instead, I just said, "In the future let's keep our conversations to hello and goodbye."




We're walking down the hall when we both suddenly start to notice that we've entered the Twilight Zone. All of my fellow football teammates had turned into their cheerleading girlfriend's personal walking butlers.




Not shockingly, even Lois found it to be disconcerting and asked, "Where are we some freakish feminist parrallel universe?"




I have to give Lois props, she was just as disgusted as I was over how pathetic the jocks looked carryng their girlfriends pompoms, holding up makeup mirrors for them, and carrying their mountains of books. Why would they do that? I mean there's no challenge to the cheerleaders – they don't have a full brain between all of them.

I guess that's a difference between me and the guys on the team, I'd rather be able to hold an intelligent conversaion with a woman who I'm interested in, not just maul her like a lion. Not that mauling Lois Lana wouldn't be fun...Oh fine Lois - I mean have you SEEN that shirt she's wearing today? *Gulp*




So Lois and I get into the Torch's office and Chloe immediately goes off on us for being late. I'm only half listening to her go on and on about Danny suddenly profusely apologizing for his actions and nursing burns on his hands...How the hell am I supposed to concentrate with Lois standing right in front of me?




Have you SEEN what Lois was wearing today? How is it that someone can wear something that is totally asexual in it's design yet still manage to leave my eyes burning and feeling the overwhelming need to contain my heat vision from going off?




Oh yeah...cleavage. **God** something that Lana always seriously lacked in.




God Lois's shirt is seriously hiked up in the back, I bet she's got a tattoo on her back just under her pants line...that would be such a cute rebelious thing for her to do just to piss off her dad, don't you think?

What kind would she have made? A thorn? A porcipine? How about a shrew?

Here we go again with farm and nature animal analogies. **I'm such a geek**




Anyway I realize that Lois is making excuses to Chloe for being late and I ripped my eyes off of her back long enough realizing that I had another chance to show off my jacket.




Chloe will understand, she'll be proud of me, right? Wrong! She said the same thing Lois did! Lois seemed to eat it up and smirked at me as I growled back my annoyance.

I again pointed out that they're the school's colors and all Chloe said was "Whatever."

AURRRGGHHH!

What is this official pick on Clark day? Damn I wish Pete was here, he would've said I was cool. Or would he have? He probably would've been jealous. Why do I have to have girls as my best friends?

God I hate my life.

Chloe tried convincing Lois to write an article when her phone rang and the Dean's office called her back. Lois leaned over and I, you know, had to take advantage of the moment...so far the jury's out, no tattoo that I could see.




You know, I could get used to being a few steps behind Lois.

Anyways she bolted out of the way leaving me alone with Chloe who was trying to talk me into interviewing Coach Teague about the Danny incident and I had to face the unpleasant task of telling Chloe that I needed to scale back on the Torch since football was in full swing. She sorta seemed to understand with me being the new quarterback and all. She even agreed that it must be exciting.




When I confessed that I didn't think the other guys wanted me around, she pointed out, "They've been playing together for three years, you're starting after two weeks on the team. What did you expect hugs and kisses?"




Damn I hate that she's always right. I wasn't any closer to being a member of the team than I was three weeks ago. I didn't think I could feel any lower.

End of the day I goto practice and find the guys all excited and unloading new boxes full of equipment. A buddy handed me my jersey – number 8 – just like Steve Young – and told me I owed him because the other guys wanted to put it in the toilet.




Great as if I didn't feel like pondscum enough. Suddenly Coach Teague comes in and asks us all to give a big round of applause to the man who was responsible for our new equipment...who should show up but my personal billionaire stalker Lex Luthor.




I was a little surprised that he didn't get a good eyeful of the glistening guys in the lockerroom, then again, maybe I was being paranoid, maybe he wasn't gay...he was just weirdly obsessed with me.




He started blathering on about his being a rebuilding season and never give up on something that means a lot to you...he went on to talking about how the team was getting a whole new start.

Kiss my ass Lex Luthor! You're so transparent even a blind and deaf old woman could see what you're trying to do!

When he made to leave the room I stopped him and called him on his tactics...I told him, "I know what you're doing, you can't buy back my friendship.




He just looked all sad and meek.

God was I glad I had practice next – I really needed to pound something.

I hear a car pulling up – guess I'll write more later.

Clark
---
Dear Diary,

Where was I? Oh yeah, practice. So having no reporters left to investigate Chloe arrived at the practice field trying to solicit interviews with Coach Teague and me.




Course she got me right in the middle of practice and I reminded her that now wasn't a good time. I have to tell you that I have no idea what happened after that but things suddenly got very uncomfortable and weird concerning Chloe.

Here's a little background that Lois filled me in on later on while I was out trying to get the respect from the guys on the team.




Lois was the first to realize something was going on strangely with Chloe when she arrived back at the Torch and found Chloe in quite a state. She told her that she realized that the reason things never worked out between her and myself was that she was never there for me because she was always at the TORCH. She then told Lois she needed to interview Mandy to find out what happened with Danny.




Always concerned with her own needs, Lois wanted to know why Chloe was dumping articles on her head when she was trying to get out of Mayberry and Chloe announced she was quitting the Torch leaving Lois in charge. Lois was shocked, sputtered that she needed the credits, and wanted to know why Chloe would do this to herself. Chloe got angry at her and told her she thought Lois would be happy for her that she'd finally have a chance with me now that Lana was out of the way.

Uh what exactly does THAT mean?




Luckily Lois was smart enough to figure out that something was haywire with Chloe and went off to talk to the cheerleaders to see if they might be able to shed any light on what set Danny off.

She found Mandy and the other cheerleaders in the hall. Being Lois, she barged right up to them and demanded an interview. When Mandy spat back, "I wouldn't give that geek rag a quote for anything" she had to spit back, "Darn and I thought it would be so insightful."

Hee hee – seriously, Lois knows how to influence people and make friends doesn't she? I mean hello, can you possibly see her as a real reporter? Who the hell is going to ever talk to a reporter who takes the first thing you say and turn it back on you with biting sarcasm?




The football players, or as Lois put it, the cheerleader's valets arrived, and Lois had a science report fall at her feet. She saw it was a report on phenylethylamine – a love molecule.




She had to ask Mandy, "How many cheerleaders does it take to draw a double helix?"




LMAO! God Lois is funny, isn't she? I wonder if the cheerleaders even KNOW what a Double Helix is?

Obviously Mandy didn't think she was too funny, she just asked, "You want a quote for your paper?" Lois said, "Yeah."

Mandy spat back, "Back off, bitch!"




Ouch, that was harsh. I mean yeah Lois is abrasive, sarcastic, and rude but I wouldn't call her a bitch. Sure she can be bitchy particularly around the middle of the month (always a good idea to keep one's distance from her then and be armed with plenty of Ding Dongs to give to her to appease the raging PMS beast) but a bitch? I'm sorry that was uncalled for MANDY.

Anyways I went home that night and retreated to my loft to study when what did I see but Chloe waiting for me...wearing my football jersey...and ONLY my football jersey.

**Gulp**




She patted on the couch and told me to come over. Don't ask me exactly what she was saying because I don't really remember – shock will do that to a person. I mean what exactly was going on? Chloe is my best friend but we agreed 2 years ago to only be friends and that's IT. It's not that I don't think Chloe is cute – because she is – but I just don't see her in "that way."




I did distinctively remember her saying, "I will do things for you that Lana would never do to help you to relieve your stress."

Ok, now I'm male, haven't gotten any female attention for a long time and there's just no way that I can let that sort of comment pass me by. I mean what did she mean? Buy me beer? Give me a neck massage? What? My curiosity was peaked, so I asked, "Like what?"




She started sliding her hand down my waist towards...towards..CLARK JR! HOLY CRAP! Ok now I KNOW something is wrong with her, there's just no way that Chloe would ever try to...try to...violate me in such a way if she was in her right mind. She'd be too embarrassed to ever even suggest such a thing.

I mean come on there's only one person who's allowed to even think about Clark Jr...and that's Lois – CRAP I mean me...well you know it is a part of me and makes me male...not that I spend hours thinking about Clark JR. btw or worrying about it or anything or ...OK seriously when I'm in town again, I need to buy pencils that I can erase stuff in this diary for when I go off on idiotic tangents like THAT.

**Sigh**

Wait, duh, super speed...be right back.....

Ah-ha! Erasable ink! I'm now set! God I love super speed. Where was I? Oh yeah, in the middle of being molested by Chloe.

I quickly snatched her hand away from Clark Jr. and asked, "Are you feeling alright?"




Apparently she decided it was time to take a ride on the Clark Kent train because she straddled my lap and cooed at me, "Can't you see I'm devoted to you, I love you Clark."




Good lord she kissed me! She planted a big one right on my lips and shoved her tongue into my mouth! I felt like a leech had just attacked me. God what is WRONG with me? Why can't I actually enjoy some female attention, lord knows being the team quarterback that should be a perk that goes along with the position, but seriously, I KNEW that Chloe wasn't acting like herself. There's just no way I could take advantage of her so as soon as I got free of her I super sped the hell out of there.




Seriously, I needed some sane female advice concerning Chloe and I knew I couldn't ask Lois for that, she'd just insist I did something to her again. So I asked my Mom. I told her Chloe was coming onto me and that I was uncomfortable about it. She said maybe Chloe was just tired of waiting around and decided to take a chance.




I told her that, "The problem is I'm not over Lana and I don't know if I ever will be." Besides, Chloe's cute and all but I just don't feel that way about her. Dad came in then and basically killed that conversation leaving me no closer to an answer over what to do about Chloe.

Because I needed more salt in my wounds, Dad asked how football was going. I told him I was missing passes and the guys didn't seem to want me around.

I said it was frustrating because if I wanted I could make every pass. He of course climbed onto his moral high horse and reminded me that the field is nowhere to use my powers. I just sighed and said, "I know Dad, I just said it's frustrating."




He then told me that when he came onto the team as starting QB for his team the guys resented him also since he was only a sophomore. He had to earn their respect.

I guess that's what I need to do. The question is how?

And another thing – why do all of the females in my life simultaneously decide to screw with my brain? I go to practice and who's watching but Lana! Wow! I go over to her and ask why she's there and she said, "I heard Clark Kent was our new Quarterback and had to come and watch."

Ok so maybe...what the hell does THIS mean? Is she ready to forgive me? Does she want to get back together with me? Does she just want to see me in tight pants? I have no idea. I tell her it means a lot to me that she was there and she just smiled.




Suddenly Coach Teague was yelling at me to get back to practice and Lana said that it looked like the AC is riding me pretty hard and I told her the truth that he's a good guy. Anyways, I got myself ready to get out on the field when Lois arrives and demands to know what the hell I did to her cousin.




I told her I didn't do anything but that Chloe was coming onto me. She insisted I sent out some sort of a signal to Chloe.




So we were still bickering as usual when suddenly I heard someone screaming my name and dear lord Chloe arrived...wearing a cheerleader's uniform.




Lois looked like she wanted to gouge her own eyes out to save herself from sharing in her cousin's humiliation. You know I could always heat vision them out for her – too bad she wouldn't be able to return the favor though.

I asked Chloe where she got that thing from and she said it was in the girl's locker storage room. She said that she decided to join the squad so we could spend more time together.




It was official, Lois and I both knew that Chloe had seen the edge of sanity and taken a mighty leap into the unknown and was now dancing with pink elephants.

Lois tried to get more info out of me, but coach was shouting at me to get my butt out on the field. I told her that I was working on it but needed some time to sort things out.




Seeing Chloe in her ridiculous uniform I got thirsty and took a drink out of the cooler and immediately started to gag. I suddenly felt extremely sick. I never get sick, what the hell was going on?




I told Coach Teague I didn't feel well and he gave me tough love and told me to get the hell out on the field. Remembering what Dad said about earning the guy's respect I knew I couldn't just up and leave practice – they'd throw me off of the team.

I don't know what the hell happened but I got my ass seriously kicked out on the field. It was like all of the guys decided that I had a sign pinned on my back that read "tackle dummy – hit as hard as you can!" My strength was gone, I had no speed, and I was playing horribly. And when I got tackled IT HURT! It didn't help much having Chloe "cheering" me on on the sidelines only further drawing attention to my horrifically bad day out on the field.




After my last beating of the day I looked up and saw the cheerleaders carrying the drink cooler and it occurred to me that maybe they had spiked it with something...judging by how I felt I'd say whatever was inside of it, the drink must be was laced with Kryptonite.




God I ingested the stuff, no wonder I felt like crap. Dammit, I needed Lois...she'd know what was going on. Sheesh my life MUST be going to hell if I'm actually turning to Lois for help.

**Whimper** I ached everywhere, didn't even realize that I had muscles in places that hurt. I didn't think my day could get any worse...unfortunately, I was wrong.

Mom's calling for dinner – ummmm pot roast! Back later!

Clark
---
Dear Diary,

Alright so I just spent an hour hunting around in my loft for my new erasable ink pens and couldn't find them anywhere! So I went down to the ground floor and happened to glance behind a stack of fence posts and found them and they were completely chewed up! You know I know that golden retrievers chew a lot and for a long time, but come ON Shelby I thought you would've outgrown this kind of destructive behavior!

I then ran to the store and they were out. I don't know why it is, but I can almost swear that Shelby looks proud of himself! Like he didn't want me erasing stuff I didn't want you to know about Lois. Shelby loves Lois, and I love that Shelby loves Lois because he makes her sneeze. Hee hee!




Of course I couldn't yell at him, he's a dog and doens't know that what he did was wrong. I gave him a cookie and he's here on the couch with me getting fur all over everything and snoring on my leg. Sigh, true happiness is a warm dog at your side. I love Shelby.




Where was I? Oh yeah, so every muscle in my body was killing me. Man! I have such huge respect for humans, I mean how do they live feeling like this when they're in pain? I mean I guess that they get used to it but man I was in misery and I still couldn't completely understand why.

Suddenly I heard a voice and Coach Teague showed up maybe he came to check up on me – he's such a great guy. I tried to tell him that I thought the cheerleaders were spiking the cooler when he attacked me! He told me to stay away from his girl! What the HELL was he talking about? God as if I wasn't in agony enough he beat the snot out of me and knocked me clear out of my loft!




You'll never guess who came to my rescue...LEX! He threw Coach Teague off of me and helped me get to my feet. While waiting for him to find me a bandaid I suddenly saw some green Kryptonite drip out of my sweating body and it all started to make sense...the cheerleaders were doing something to that drink and it included Kryptonite! Of course my wounds immediately healed once the Kryptonite was out of my system which only further confused Lex.




I gruffly asked him why he was there to change the subject from my Wolverine act. It appeared that he wanted to prove me how devoted he was to our friendship and he handed me a package with all of the data that he'd collected on me. He said that he wanted a clean slate and to try being friends again.




I don't know, I mean I still have nightmares about that room and wonder what the hell he really wants from me. I just don't trust him, you know? I mean he's got money but I know that he's really just envious of my life...what more could he want from me? My thick mane of hair?

He then said something interesting, "I think it's my curse that all of my relationships end badly."

I replied, "We all have a dark side."

"Yeah but I can feel mine creping around the corners, Clark. Your friendship helps to keep that at bay, you remind me that there are truly good people in the world."




God, I think Lex has been studying my Dad too closely, he seriously just trumped me with the granddaddy of all guilt cards. What could I do but forgave him for being a sick and disturbed man and said we could try again.




So after Lex left and I changed I returned to the school to see if I could find anything more about that drink and to find Coach Teague to find out why he went after me. I found Lois instead.

I told her that Coach Teach just attacked me in my barn and she replied, "After that performance on the field today, I'm not surprised."




Oh dear LORD! Seriously? It wasn't my fault that I played poorly! I WAS DRUGGED! Besides I'm now thinking that Jason asked the guys to triple their attacks on me, how exactly is THAT fair?

Growling, I told her that the cheerleaders were spiking the drink with something that was causing all of the football players to go love slave on me and she did her usual and surprised me. "Want to know with what?"

I was shocked, I asked, "You actually did some investigating?"




Lois grabbed my hand and yanked me into the Torch's office..once again I was a few steps behind her and was enjoying the view. She had on a pink tank top today – I really love those tank tops of hers they really accentuate her chest area nicely....oh it's cold in here!

Oh CRAP, dammit Shelby!




She didn't notice me admiring the view and said, "My cousin goes Martha Stewart without the jail time yeah, I'm gonna look into things."




She then pulled out a folder and said it was her smoking gun. Oh yeah, I was impressed. "Mandy and Rhonda did a science fair project." Woohoo!




She looked at me like I was an idiot and explained that phenywhatsitsname was a love potion but it didn't work when they made it for the fair. I, however, knew the real culprit, I said, "Right until they added the meteor rocks!"




Lois just gave me one of her world famous "You're an idiot Kent" looks and said, "Whatever."




She then looked at me with those big pretty hazel eyes of hers and asked why the hell I wasn't going on devoted love slave because she knew I had drank some of it.




Can I say that terror unlike anything that I'd ever experienced coursed through my body? Here we go...just what I've been waiting for...Mad Dog Lane to sudden put ME under her microscope and try to figure me out.

Now Dear Diary I have to confess something to you. I don't know what it is about Lois Lane, but I have a feeling that if she ever directly asked me about myself...I don't know that I can lie to her. I mean why is that? She drives me freaking crazy, she's completely unpredictable, and yet I can't seem to keep my mouth shut around her nor can I keep my eyes in my own head. Whatever the hell she wants me to do or say I willingly do it without a second thought. It's almost like I'm devoted to her...god maybe that stupid drink HAS affected my brain in some way. Why the HELL would I want to be devoted to someone as bossy as Lois Lane? I don't enjoy being bossed around...much...well except maybe by her I do. She's strong, I like that she yanks me around like a sack of potatos and punches me like I'm her playtoy. Why in the hell IS that? I must be a glutton for punishment, I guess you'd have to be to be a friend of Lois's.




Anyways while I'm having visions of her handing me over to her scary father's boss's so that they can study me from everyorafice, Lois saunters up to me and flashes me the sexiest smile on her face that I've ever seen and I found myself completely off guard. Damn, if she asked right then I would've said I was devoted to her.

God I could smell her shampoo it was mixed with minty fresh gum...I found myself staring at her lips realizing I could use brushing my teeth, maybe she'd have enough mintiness left over in her mouth...

KENT! What the HELL are you thinking? This is Lois the girl who humiliated you in front of your mother with and made her think we showered together!

**Whimper**




Lois began to talk and I tried to focus on what she was saying, she explained that Mandy kept her paper in her faux Prada bag and that since presumably I was infected I should try to get it away from her. She innocently batted her lashes at me and asked, "How do you look in a swimsuit?"




**Gulp** She didn't care about why I was infected, she just wanted to use me to get to Mandy so that we could find out how to cure everyone. How in the hell could I say no to that? And why the HELL did I suddenly want to wipe that sultry sexy grin off of her face using my own lips as the tool for doing so?

God...help...ME!




We arrived at the school's pool and suddenly we were again completely horrified by the spectical that the girls had made of the football players. They were making them hula dance and do pretty much anything utterly humiliating.




Lois then spied Mandy and shoved me in her direction. I tried to retreat and called out to her to help me, but she just pushed me forward.

Seeing I had no choice in the matter I played my part and told Mandy that I was devoted to her. She gave me a lookover and decided I was worthy of her affections and dragged me and her bag off to the weight room.




Can you believe that? She thought that I would be worthy of her? Please! I mean come on! Like I really want to be attacked yet again by a phoney, plasticy flat chested girl who I have zero romantic feelings for. There was nobody more annoying than Mandy. She called Lois a Bitch! Hello pot...kettle...black!

Why the hell couldn't Lois have taken a swig of that drink? I mean I bet if she told me that she would do anything for me...I'd not only let her, but I might even give her the moon, literally.

What the HELL is WRONG with me?

Focus Kent.




Weight room, yeah so Lois snuck in after us as I wrestled with a one hundred pound leech trying to suck the tonsils out of my lungs.




I had to act like a complete moron and tell her that I thought she was beautiful. Thank god I'm so good at lying, the ditz actually believed me.




I kept trying to make eye contact with Lois for help on how to get the bag away and Mandy said I was distracted. Crap! I told her I was nervous because I thought we were about to do something I'd never done before.

God I hope Lois didn't hear that. I'm totally humiliated. Like I wanted to announce to some tramp from the cheerleading squad that I'm a virgin, I REALLY didn't need LOIS to know that! I can just see that by this time tomorrow the whole football team will know and I'll NEVER get their respect on the field. They'll probably all think I'm gay or something because that's how guys think.




As if sucking all of the air out of my lungs wasn't enough she asked what I would do for her. I told her I'd take her to dinner. Lois looked at me like I was a cheapwad so I told Mandy that I'd cook her dinner and she responded "Oh that's so hot!"

Yeah, well I hate to break it to you Mandy, but I'll let Lois be the one to cook it for you babe. You won't think it's so hot then! LMAO!




Finally I snatched the bag away from her and tried to get it to Lois but that girl is seriously attached to her purse and we ended up across the room on the coach's desk.

She pulled my shirt off and seriously began to cut off my oxygen supply.




Lois snuck around and looked at us like she's trying to catch another glimpse of Clark Jr again! Hello! Freaking FOCUS Lois! I'm being violated and molested here! I threw my sweaty t-shirt on her along with the purse, praying to GOD she would get the answer before I found myself in a situation that I REALLY didn't want to find myself in. Granted making it with Mandy would probably earn me the respect of every guy in the school, but that was certainly now who I planned on losing my virginity to. That honor goes to Lois..I mean LANA!

CRAP! Focus Kent!




Lois ran out of there and while she was looking for the answer in the paper she was attached by Chloe! Chloe screamed at her that "I went through this with Lana and I'm NOT going through it with you!"




Miss Oblivious asked, "Do what??"

"Lose Clark!"




Lois accidentally knocked her cousin against one of the school's boilers and Chloe snapped out of her psychotic rage. Thank god, last thing I needed was for her to walk in on me with Mandy straddling my chest and preparing to ride me like a prize bull at a country fair.




Mandy was tugging on my board shorts strings and asked me how far I wanted to go, when my white knight arrived – Lois. She said, "That's far enough. Isn't it pathetic that you have to juice up your boyfriends?" she taunted to Mandy.




I couldn't get away from Mandy fast enough and hid behind my two breast friends...I mean BEST friends! Chloe and Lois would protect me! I mean why would I want to ever hang around flat chested Mandy when I had two such highly gifted friends in the breast department. Oh yeah, and don't think I didn't notice that both of them took their opportunity to check me out without my shirt on too. Ok I don't care about Chloe seeing me, but Lois actually checked me out! I wonder if she was impressed? I mean I've been working my abs lately...focus Kent...focus...




Back to reality...Lois was talking to me. She explained about burning Chloe and the heat being what wore off the drug.




We then realized Mandy had left and Lois started jawing at me for not keeping an eye on Mandy. I argued that she was closer to the door, when Chloe saw the leech reappear and announce that we were going to be sorry that we pissed her off.

"What are you going to do, cheer us to death?" Lois had to ask. If it wasn't for the fact that three of the linebackers had arrived carrying weapons and I now had two female friends to save, I would've laughed at Lois's comment. God she's funny..and fearless. I love that about her.




I planned to get us out the door and was leading Chloe there when what does Lois do, she says "Let's get it on!"

One of the guys said, "Bring it on bitch!"




Now that does it! What the HELL is it with these jock types thinking that they can get away with calling Lois a bitch? What so she's a smart, intelligent woman who doesn't take any crap from people and THAT makes her a bitch? HA! She's not the one who's got you morons wearing grass skirts and coconuts over your nipples! Oh and by the way my good friend LOIS just sucker kicked you guys in the chest and knocked you over like dominos! As I said, fearless. She looked up and saw a heating pipe and asked, "Hey Smallville, got any explosions up your sleeve?"




I wanted to say, "Why yes, in fact, I do." Instead I just heat vision fried the pipe and it showered hot steam over them and cured them instantly.

Of course Lois didn't see it AGAIN. I showed my powers RIGHT IN FRONT OF HER and she still was completley oblivious. She just said, "That was weird."

I sighed, can't tell her about my powers and yet again she won't know that I saved our collectives asses (and what a fine one Lois has too,) so I just said, "Must be lucky I guess."




She said to me, "Let's just hope that you have that sort of luck on the field tomorrow."

Why does the Han Solo line keep running through my head? "Either I'm going to kill her or I'm beginning to like her."




I had no choice, I had to preserve my sanity. I went to Lex and buried the hatchet completely and asked him for one little favor. I needed my life back was sanity such a bad thing?




Anyways the next day was the big end of season game that would lead us to the state championship. Coach Teague apologized and seemed utterly confused over why he shouted at me for going after his girl. He said after I cured all of the guys I had their respect now.

Everyone was there at the game, Chloe, Lana, Lois, my parents and Lex.




Last play of the game we needed a sixty yard throw to win the game. I asked my receiver if he could run that far and he said hell yeah! So I threw the ball, he caught it, scored, and we won the game!




Of course I looked in the stands and Dad was disappointed, I wasn't about to let his sour mood spoil my big victory. We wouldn't have won if my receiver wasn't down there to begin with. I was a champion and it felt GREAT!




After the game Chloe commented about my amazing throw and said she'd maybe write a story about me. I of course asked if that meant that she's back at the Torch and she nodded her head.

She then apologized for "allowing things to get ridiculously awkward between us." And then she admited to me that she still had feelings for me. I told her I didn't have them, at least not now.




She was upset but wanted to know if we could stay friends, which of course wasn't even a question. I told her that I was going to make time for the Torch. She said, "Wow superhero and journalist, what are the odds?" Right, what are the odds of that every happening?




As I walked away from her I heard a familiar voice warn me "Break her heart and I'll come back here and break your legs."




I tried acting all innocent and not understanding what Lois meant by coming back. I also tried to ignore the warm feel of her hand on my back or how great she looked in yellow.




She told me about Lex making the calls to Met U and she was in. She knew I was behind it and I couldn't very well deny that I had a part in it.

Why did I do that again? Did I really want to let this lovely scenery pass out of my life?




I just said, "Well the important thing is that you got in and you're leaving." I suddenly realized I sounded like an ass and added, "Because that's what you wanted, right?"




She just grinned at me and replied, "Yeah yeah, don't get all broken up over it."




She looked at me and said, "I'm looking forward to the normal life of the big city. If I can describe my time here in one word, it would be weird."




Lois then looked at me and said, "But don't worry, I'll be back to visit."




I couldn't let that line go and asked, "Is that a threat or a promise?"




She chucked me on the shoulder, smiled and said, "I'll see you around, Smallville."




I watched her leave and suddenly I found myself wondering if I'd done the right thing. A large part of me would've enjoyed having her around school to torment me and drive me up the wall. At the same time I knew how miserable she was here and making her happy made me happy...and if my life suddenly became a little more sane in the process does that really count as personal gain?




I keep thinking about that smile she flashed me at the pep rally and all I wanted was for her be that happy all of the time. Why? Because for as utterly insane and unbalanced as she makes me, I'm never freer or happier than I am when I'm with Lois Lane. I wish I could somehow bottle her up and release a little Lois into my life on days when I'm feeling blue. If anyone could figure out how to do that, they'd become a millionaire.

I guess that's it for now. Shelby woke up and needs to be fed.

Clark
---
Dear Diary,

So it's been a while, sorry about that. The corn crop came in and I had to deal w/bringing in the crop. Thank goodness that with the ethanol craze that's hitting the US prices on corn are through the roof. I was able to get that new motor for the tractor (a lot less expensive than buying a NEW tractor.) Besides, as much as I would love a new one, I don't think I could ever retire Old Blue, you know? It was my Dads, I have fond memories of us both standing around the thing and cursing at it when it wouldn't start.

Where was I? Oh yeah, Lois went off to college. She stayed there but always pestered me on the phone. You'd think with her big mouth and pretty face that she'd make hoards of new friends at college – maybe she did, I don't know, all I know is we spent a lot of time gabbing in the evening and my being forced to listen to her complain about how bored she was in her classes.

All of the while I made a new friend – his name was Bart Allen. He was the first guy I'd ever met who had powers like mine who wasn't affected by the Smallville meteor shower. I won't tell you what he can do, that's his secret, you know? But I will just say this – the guy could be named Flash!

What else happened? Oh yeah, I switched bodies with Lionel Luthor and got to spend a few powerless days IN PRISON! You know I bet there would be a lot fewer younger kids turning to a life of crime if they shared in THAT lovely experience. Yeah, don't much wish to spend a lot of time thinking on that one. Oh and we won the state championship!

So my Mom and Dad were spending a few days in Metropolis and I was about to be interviewed by a guy from Princeton about possibly getting into that school when who drives up next to the barn but Lois.

I was happy to see Lois, I mean talking to her isn't exactly the same as seeing her in person. But I was a bit confused and asked her what she was doing there...I mean, she couldn't possibly have come just because she missed me? Right? I found myself suddenly VERY happy that I was wearing her favorite flannel shirt again though! I wondered if she'd remember wearing it back in September? I know I did this morning when I put it on...I wonder if she knew I was thinking about her long tanned, toned legs, was that was she was here?




Nope, of course not. She reminded me that she'd invited herself to use my barn for a surprise Birthday party for Chloe!

I told her that was out of the question, I mean the guy from Princeton was coming!




Lois threw some boxes of decorations at me said, "It's too late now, Clark. You don't want to be the one to rain on Chloe's shindig, do you?"




I kept trying to object and she raced right into the barn blathering about needing to get her truck back to her Dad before he missed it.




She sensed my reluctance and said, "You know it's just going to be a few people standing around a Birthday cake singing Happy Birthday, it's not like it's going to be Sadam and Gamora around here."




There was only one thing that I could do, I relented. I mean for one thing, I can never say no to Lois; she could probably find a way to argue me into giving away all of my flannel shirts if she really worked at it or you know, cast me under some sort of spell. But secondly after having been in hiding all summer, I guess throwing Chloe a nice Birthday would be alright.

I mean what could possibly go wrong?




Damn it – you caught me! Now you can't blame me for the wrapping job I did on Chloe's present...please? I'm a GUY, I don't know how to wrap gifts!




So evening came and no Lois. The barn was filled with kids from school but the Birthday girl was nowhere in sight. I tried calling Lois but couldn't get an answer. I started to worry – were they in trouble? Did Lois need me?




After getting a cold shoulder from Jason when I asked him if he maybe knew what was going on the barn doors finally flung open and Lois, Chloe, and Lana showed up – dressed like goth chicks.




Holy CRAP! Ok all three of them looked rather smoking hot in their getups but did you see Lois? Talk about the cup floweth over! Hooha! She looks like someone poured her into that dress of hers. I started to think that maybe it was MY birthday...for my eyes were certainly enjoying a free feast!

The girls were yammering together and I decided to find out what was going on so I pulled Lois aside.




Dear diary, she CHECKED ME OUT! Her eyes scanned me from toe to face and she started to slink towards me and gave me big flirty doe eyes.




*Gulp*

I tried to ignore the fact that she was totally not acting like herself and complained, "You're an hour late! The guy from Princeton will be here any minute! Where were you?




Oh dear lord she crowded my personal space and got close enough that I could've almost kissed her...you know if I was that sort of a guy...you know the sort who'd take advantage of oddly behaved girls. At least with her getting that close to me, I wasn't tempted to stare at her cleavage...much.

She finally got around to replying and said, "We took the scenic route, and I certainly like the view!"




Oh I get it, there was only one explanation, I asked, "Have you been drinking?"

Lana pulled her aside and the three girls all crowded together. Lois looked mighty pleased with herself.




Things got somewhat fuzzy after that – I recall Lois ogling me from the party table, a flash of light, suddenly everyone was half naked, and the guy from Princeton arrived to find me in only my boxers dancing like an idiot with Lana and Chloe. I think I asked him to join in on the party.




Dear Diary...I'm so screwed and SO not going to Princeton. God I'm glad that Met U is very interested in me coming to play ball for them. Mom's going to be upset though.

I woke up the next morning on the phone I had to cover to Mom that the interview didn't go so well. I told her, "Yeah, I met him last night...I think I made an impression." I was so confused, I had no idea what was going on.




I went to see Lex to find out if he had any contacts at Princeton and found him bloodied playing the piano. Apparently Lana did something to him.




It was starting to make sense, Lana must've done something to Lois to make her come onto me last night and turn my party into something right out of RISKY BUSINESS. Thank god there were no pimps though or stolen family treasures. I mean what would someone want anyways? Old Blue? Shelby? I certainly didn't have a new sports car to drive into a lake.

After going to Lana's I found her torturing Jason and she threw him out the window by just pointing at him. I raced down into the alley and saved him from crashing and smashing his head.




Ok here's a question for you, why am I always having to save the lives of Lana's boyfriends? I mean freshman year I saved Whitney from a burning car and now I just saved Jason's life. Isn't it bad enough that I have to add saving Lana's neck to my weekly chore list that now I have to add saving her boyfriend's lives on a regular basis also?

Anyways, I looked up and there was a message there to meet at the barn. So I get there and the three girls were waiting for me. They wanted to know what my deal was.




Lois – she chucked a wagon wheel at me and flung me half way across the barn. I got up and Chloe flung a bunch of farm tools at me that I knocked away with my heat vision...I rather felt like Cyclops I must say. **Reminder to self to figure out a way to set up that kind of target practice w/ my heat vision – that was kinda cool!**




The girls kept saying things about my "magics" being powerful. I asked, "Magic?" What the hell were they talking about?

I guess Lana decided I needed a visual example and somehow lifted me into the air. I suddenly wondered if this whole new change in their personalities had to do with the meteor rocks – were they somehow disrupting their cycles? Where they all PMSing together and supercharged on Kryptonite?




Ok there was ONE major advantage to being lifted up here...check out the view of Lois's cleavage! I could die now and I'd be a happy man.




I fell to the ground and the girls immediately decended upon me. Both Lois and Chloe started feeling me up. They were all blathering about my "power" and calling me a sorcerer.




I tried reasoning with Chloe and Lois but just got laughed at. I swear looking at how they were eyeballing me, I started to worry about my virtue. I mean, I wouldn't mind being with Lois..I mean Lana..but she had a boyfriend. Chloe, we were friends only, why was she molesting me?




God Lois's cleavage was right in my face again.




I suddenly found myself WISHING that they'd just sexually assaulted me, instead Lana started chanting over me and this big light erupted in the room and I suddenly felt like an empty shell of a man.




Psycho Lana somehow stripped me of all of my powers.




Lois looked like she was still willing to rid me of my virginity also.




At that point I was so exhausted and empty feeling, I didn't care what they did to me.




So no, they didn't ask for Clark Junior to perform for them, instead they tied me up like a prisoner of war and stared at me like I was a prize beefcake. I was bleeding, tired, and confused. They started saying that they could feel something was different about me.




Oh crap – they started talking about my father's stones and somehow sensed that I knew where one of them was located.

Ok, why in the HELL did Jor-El devise this stupid scavenger hunt for me? He couldn't just stuffed them into the cave walls considering I was the first person to go in there and it would've saved me a lot of hassle and a year from hell, I may add!




Lois and Chloe tried sweet talking me into revealing where I had hid the stone. Chloe clawed me up.
I was proud of myself, for once I was able to say no to something Lois wanted. I mean, at this point I'd figured out she wasn't herself. To Lois, I couldn't say no, to some psychotic crazed lunatic, I most certainly could hide EVERYTHING from her...no matter how hot she was!




Little good it did though, Lana double crossed me and kissed me. Somehow she got me to reveal the location of the stone and the three girls vanished.

Luckily for me Jason arrived and helped me down. He asked me where Lana was, I told him "She's with Lois, but they're different." He told me that Lana was possesed by an ancient witch. He said the only way to get Lana back was to destroy her spellbook. He wanted to find her but I knew I couldn't put him in danger again so I misdirected him to the school.




I got to the caves in time to find that the girls had discovered the secret chamber and were circling the stone.




Lana just looked at me and mocked, "You shouldn't have come. We were going to let you live."

I came holding my Dad's shotgun. I figured I'd blow up the piece before I let them have it! Before I could do anything Lois somehow got the shotgun out of my hands!




Lana made for the piece and and it burned her hand. The stone bounced to me and when I grabbed it I felt this tremendous surge of energy and my powers were back.




Lois caught on first to this and said, "His powers are restored."

Lana taunted me that they took them once before and they could do it again. She asked, "Do you really think this time will be any different?"




I simply said, "I'm counting on it." And with my heat vision I blasted that damned spellbook back to hell where it belongs!

We all woke up in the outer cave. Lois complained about being dirty and Chloe wanted to know what the hell they were wearing. Lana couldn't remember anything – not surprising, I mean with the amount of times she's had blunt trauma to her head I'm surprised she can even remember her own name.




The next day Lois and I gave Chloe her present. Chloe talked about her "naked party" and asked if I remembered anything from it. I said that it was all fuzzy and that I only remembered a few birthmarks (did not need to bring up that I knew about Chloe's because I once x-rayed her when I was on red K- that's our little secret, ok?)

Can I hope to be on redK again at some point so I can seek out Lois's birthmarks? Or how about that evasive tatoo that I'm sure she's got hidden on her body somewhere? Maybe she's got one that says "Lois and Clark Forever." HA! As if!




Lois said, "Witch hunts, memory loss, and a miraculous recovery from Clark the perverk Kent just another typical day in Smallville."




**Sigh** of course Lois can't let even a nice moment for her cousin pass without insulting me, surprisingly I found it reassuring. At least I knew she was back to normal. Chloe loved her gift – it was a vintage typewriter that Lois and I tracked down for her...the same model as her idol Nelly Blythe used. I told her that we thought two great reporters should have the same typewriter.

Chloe was touched and said, "This was the best birthday that I can't remember."




All I can say is thank god for that. I certainly wish that I could forget that day.

I need to go feed the cows and work up the courage to post my next chapter. God I hate this time of my life, but Lois was there for me when I really needed her, so I'll get it down when I'm ready to face those awful memories.

Clark.
---
The Next chapter was supposed to be for Pariah - it got delayed...
---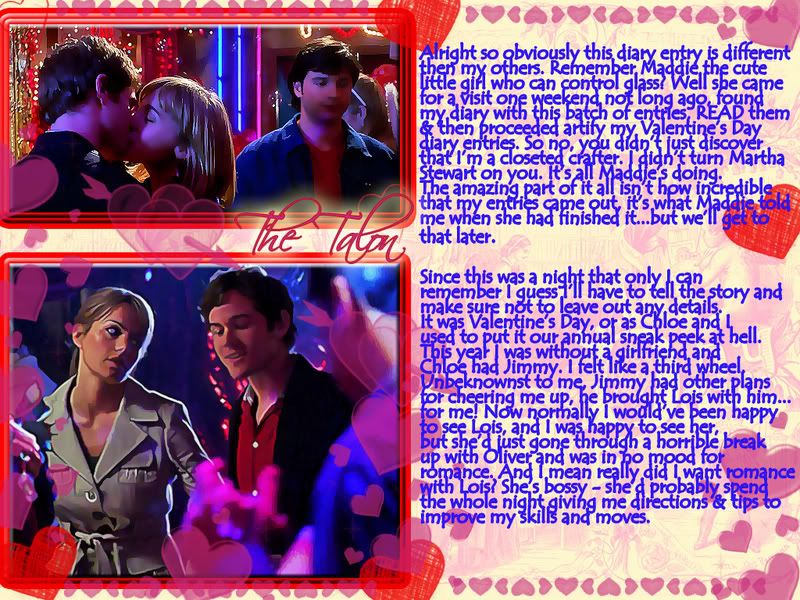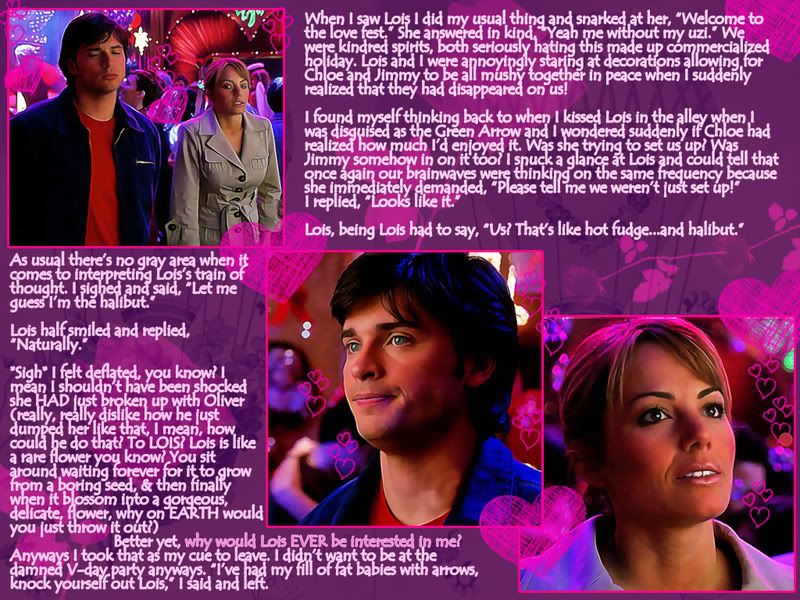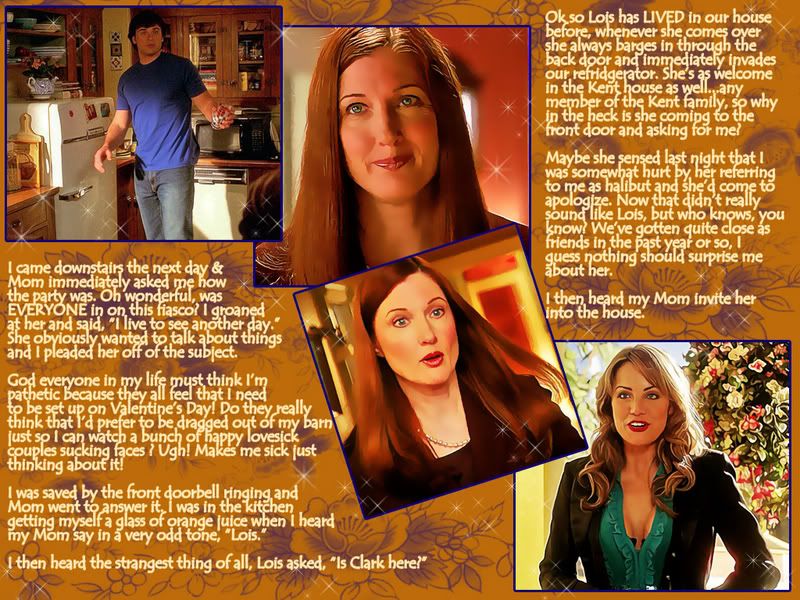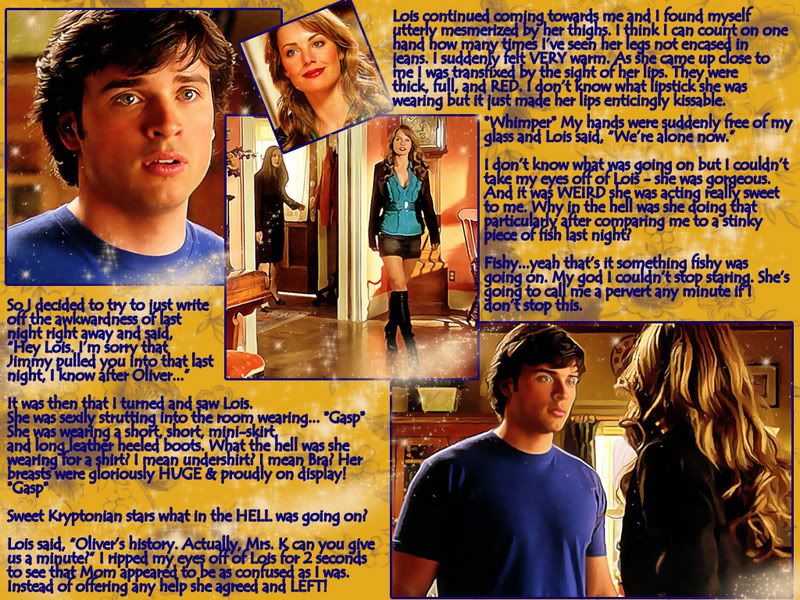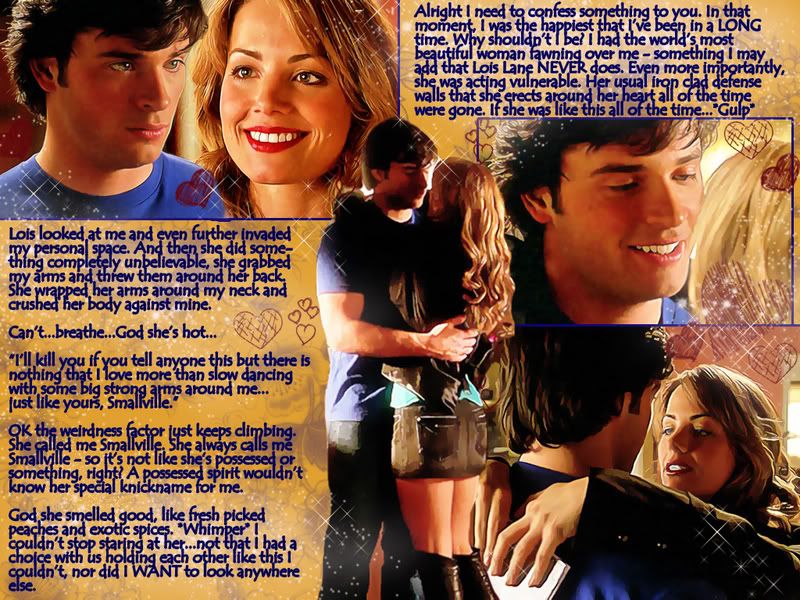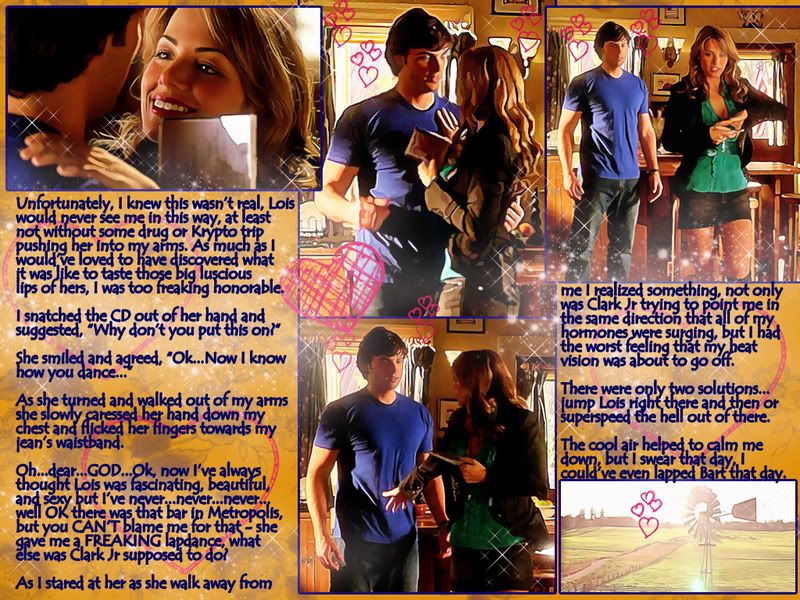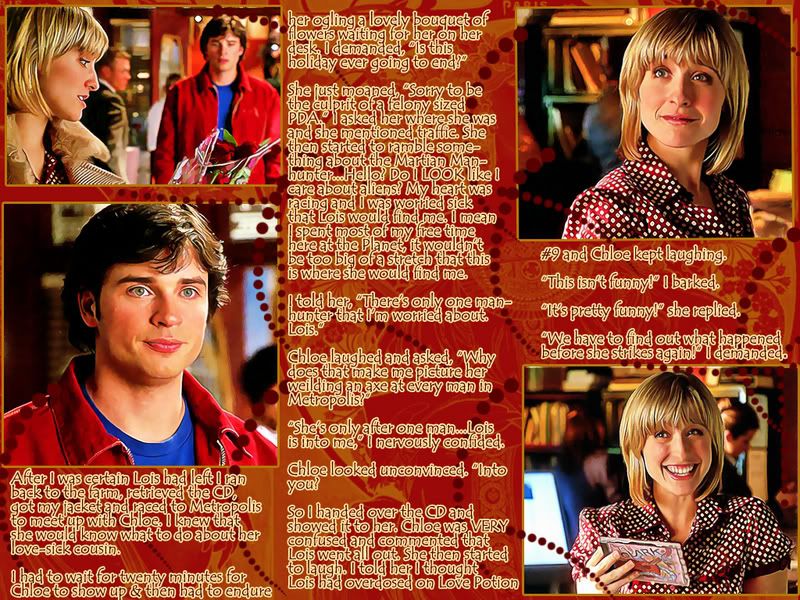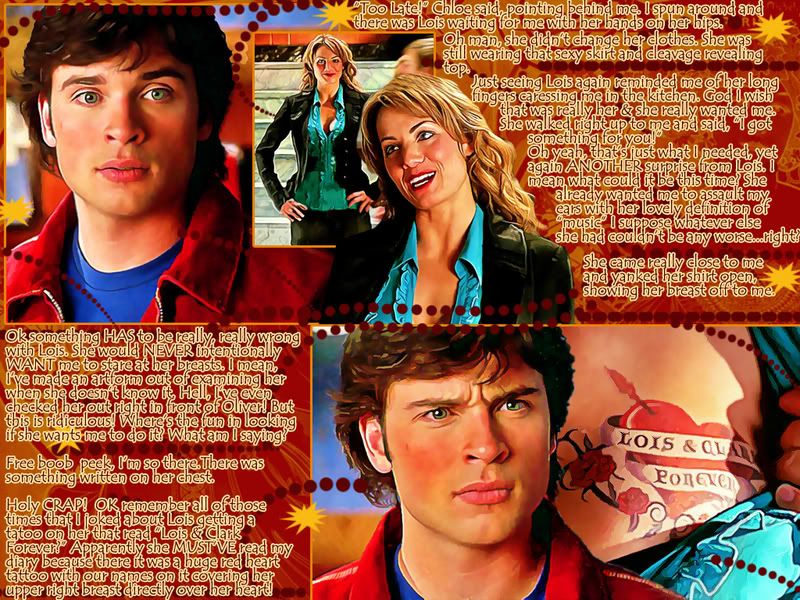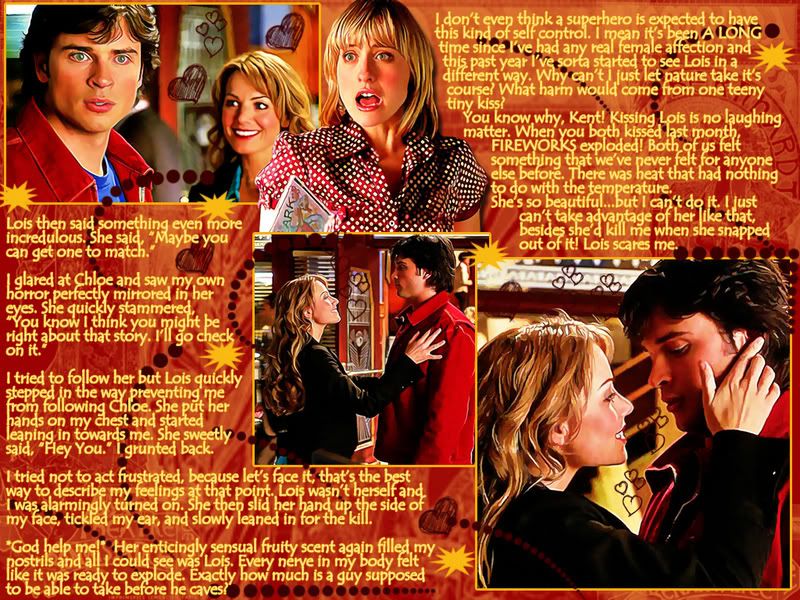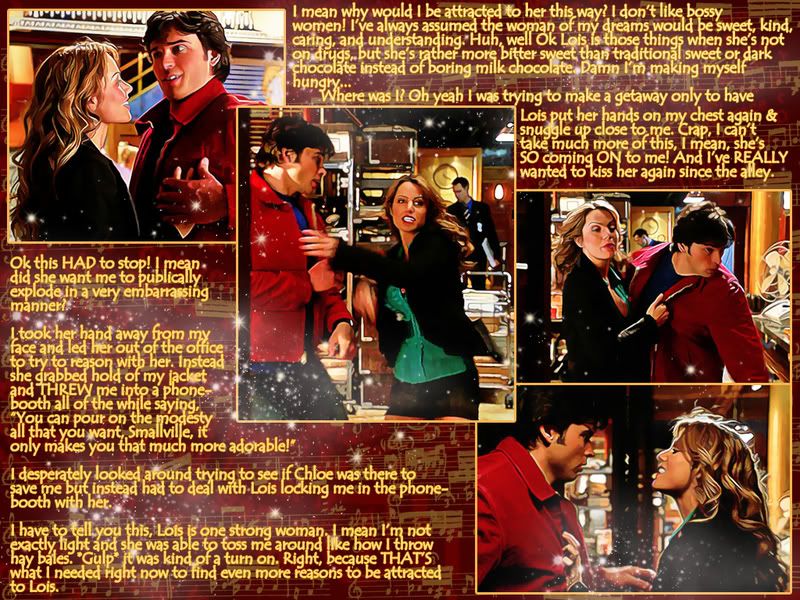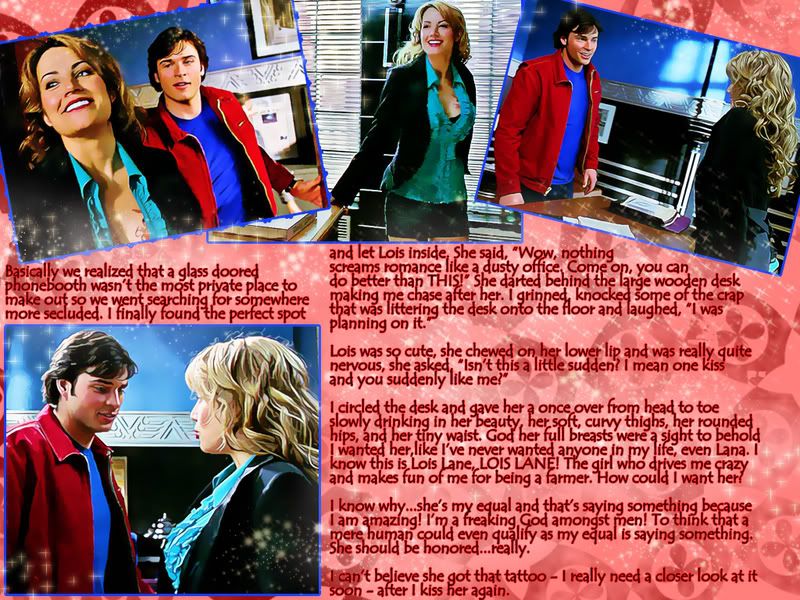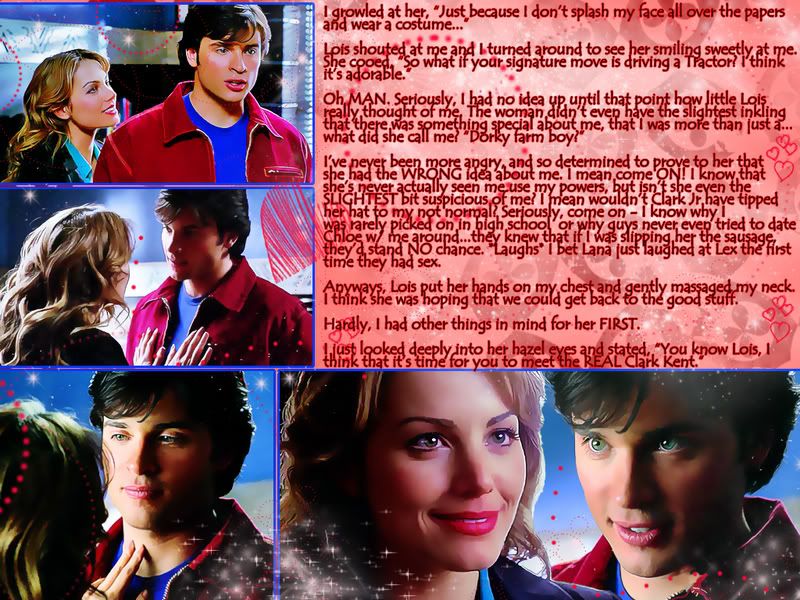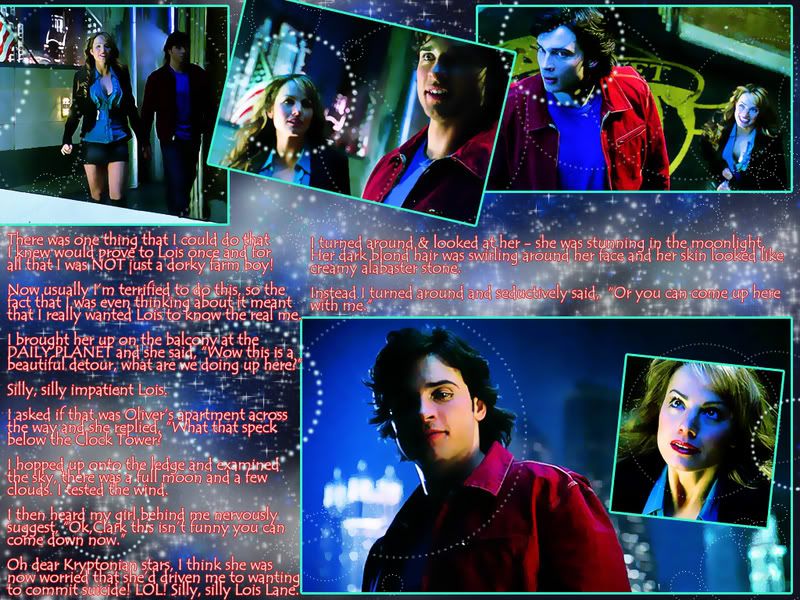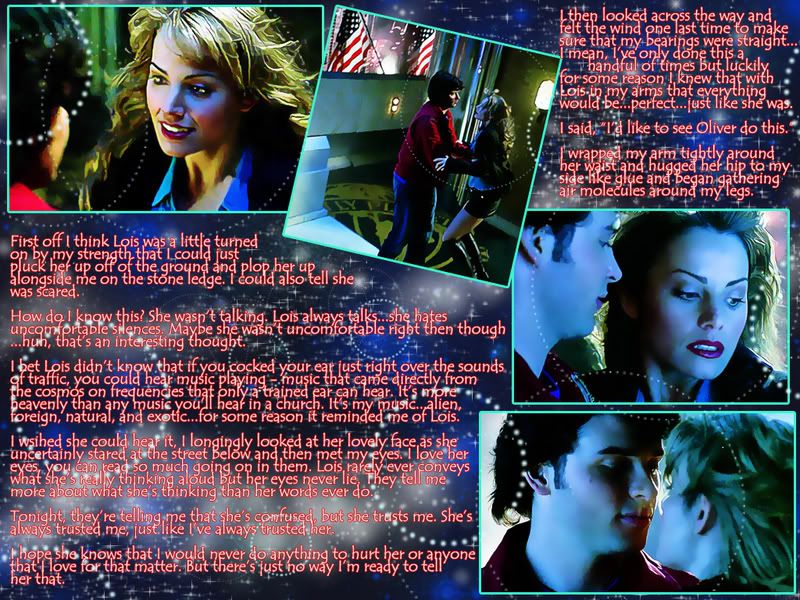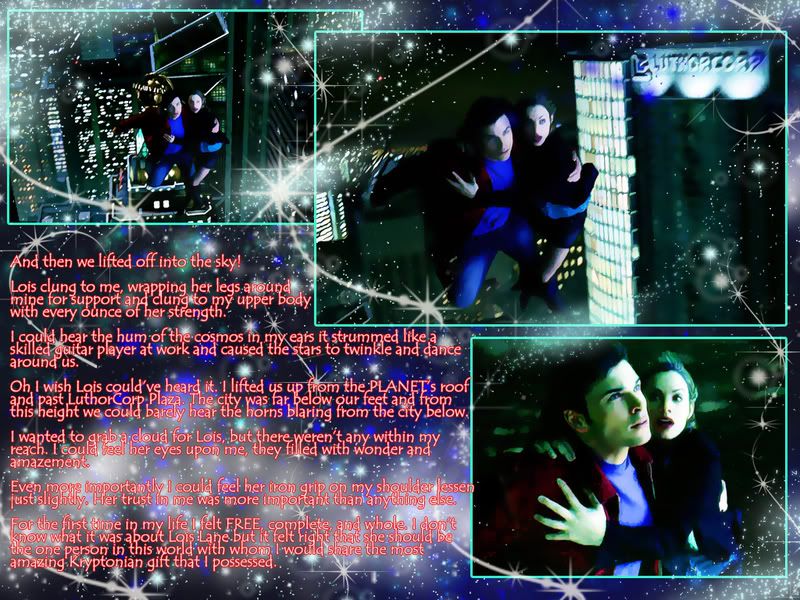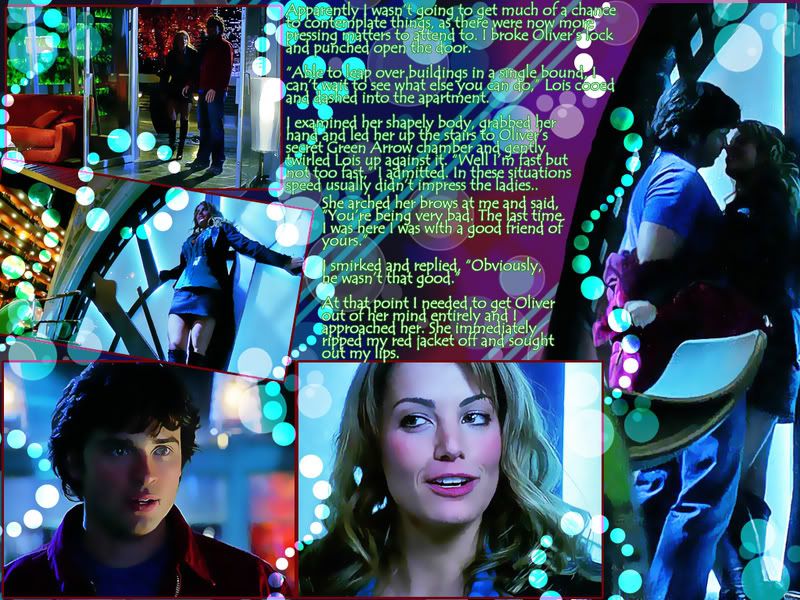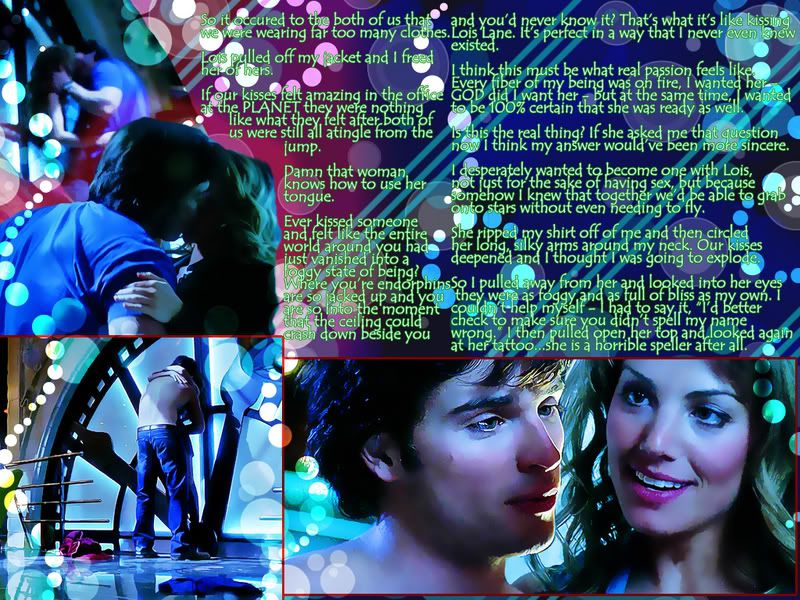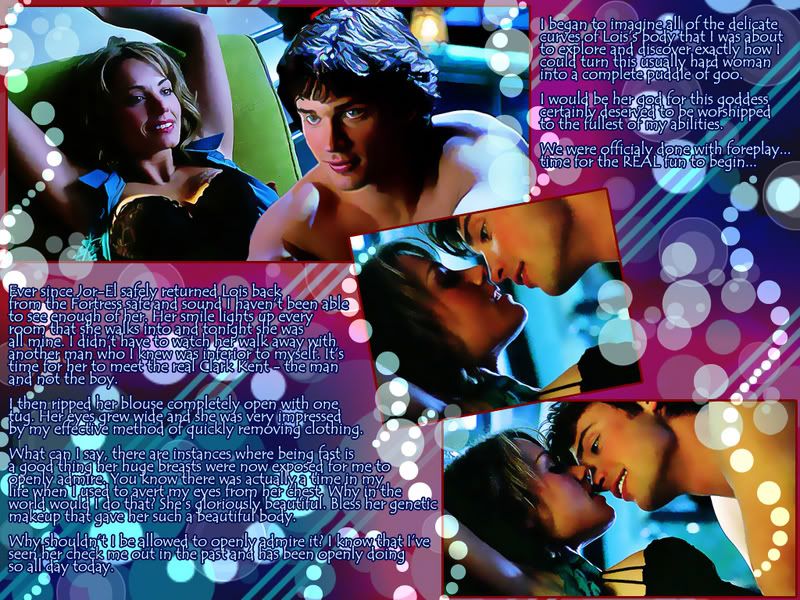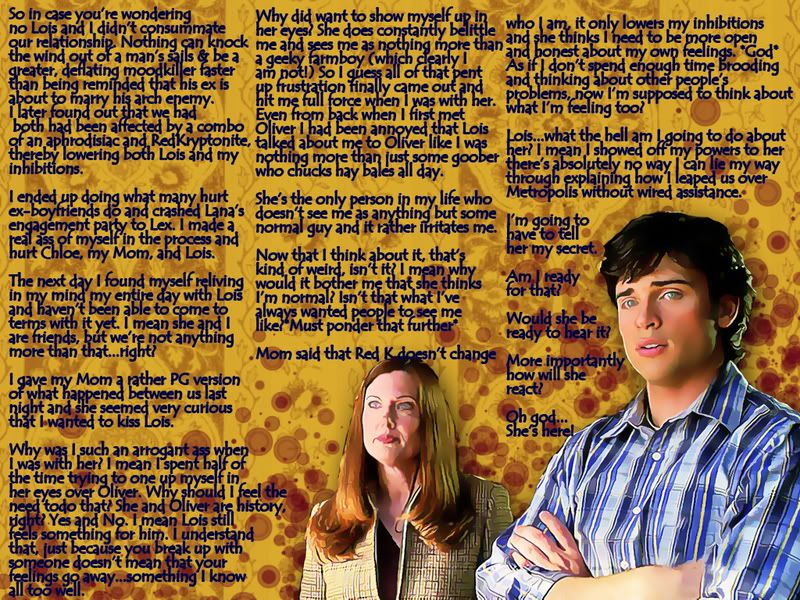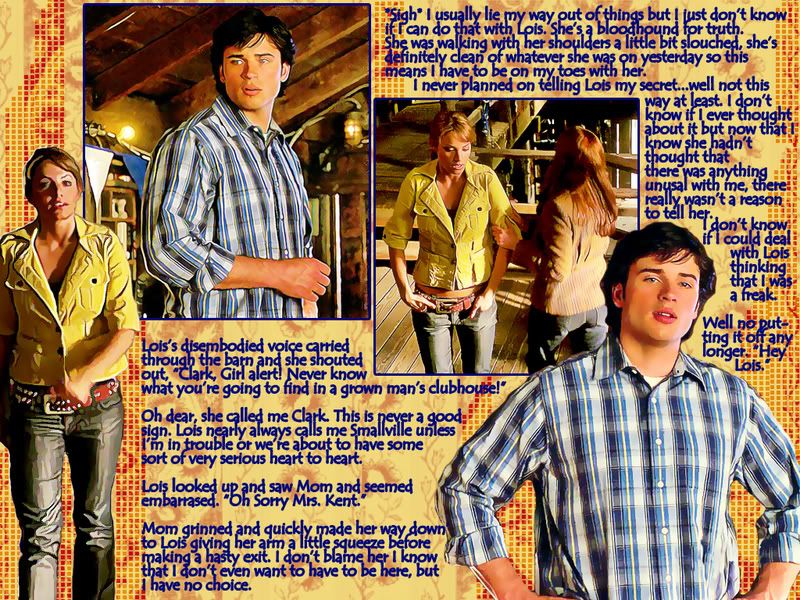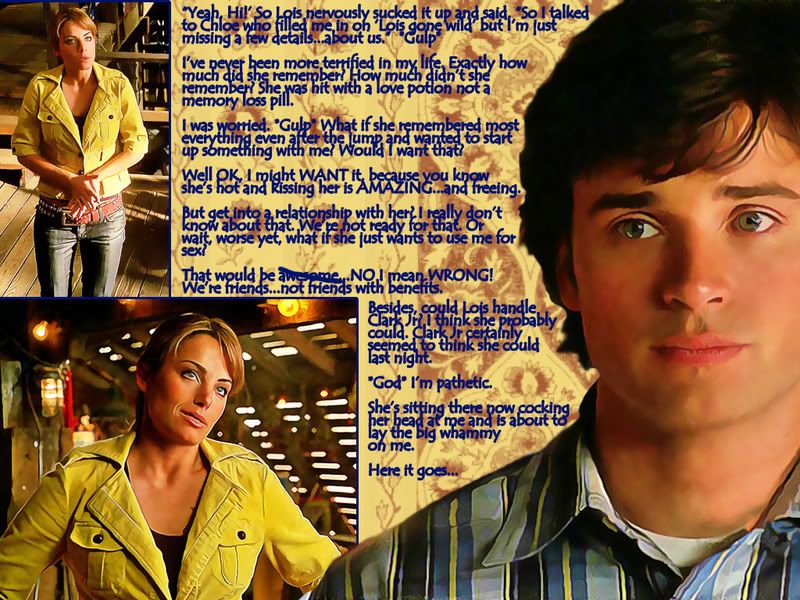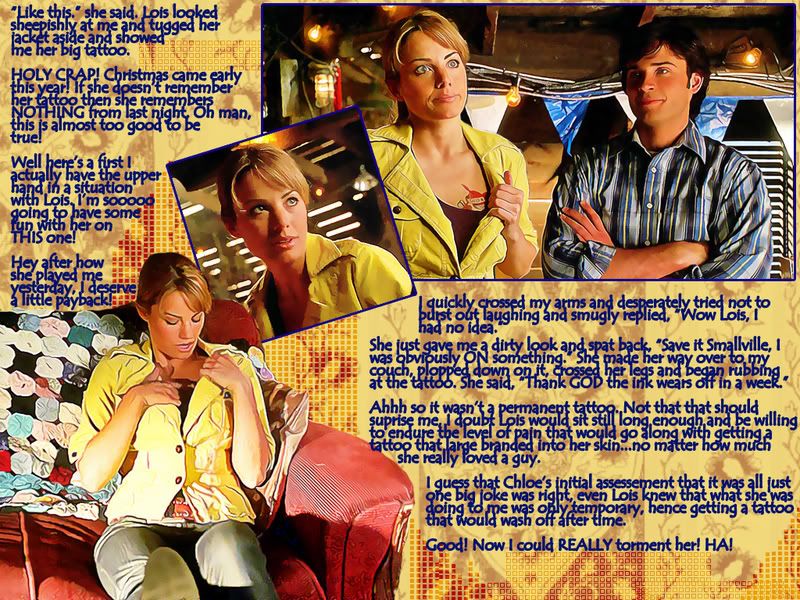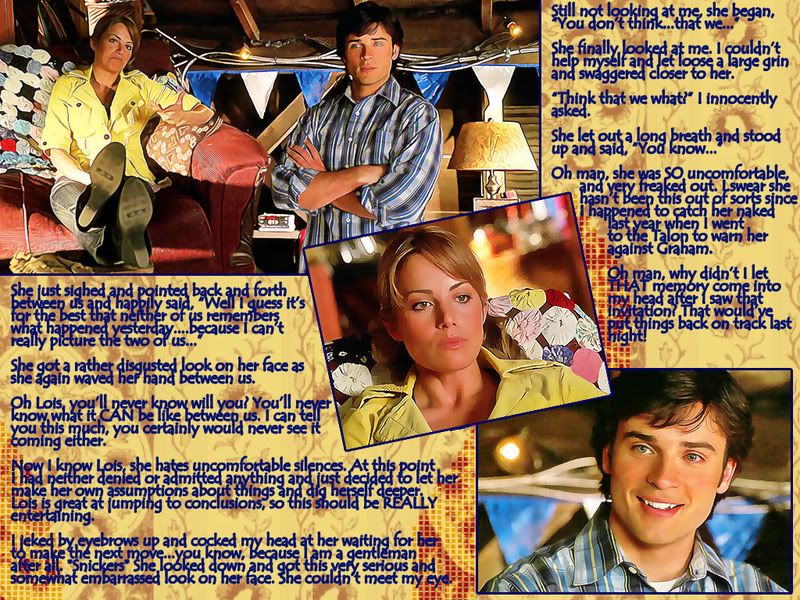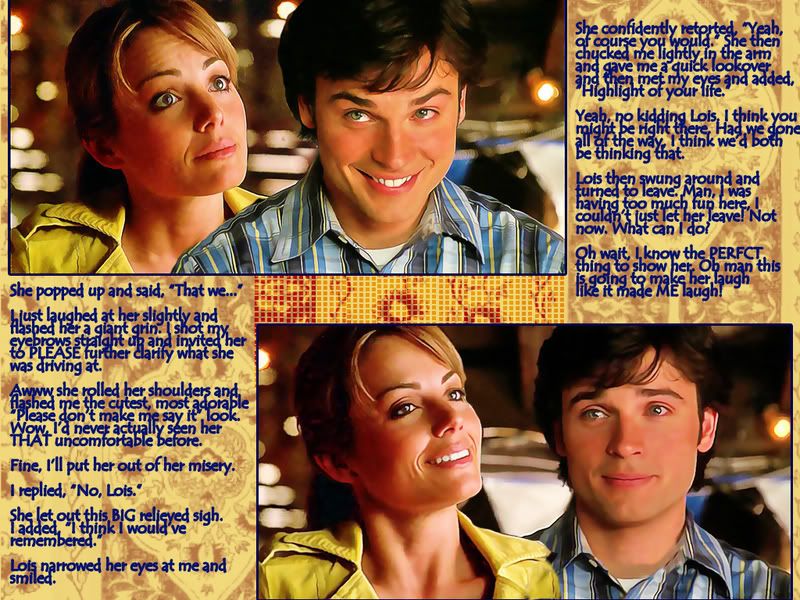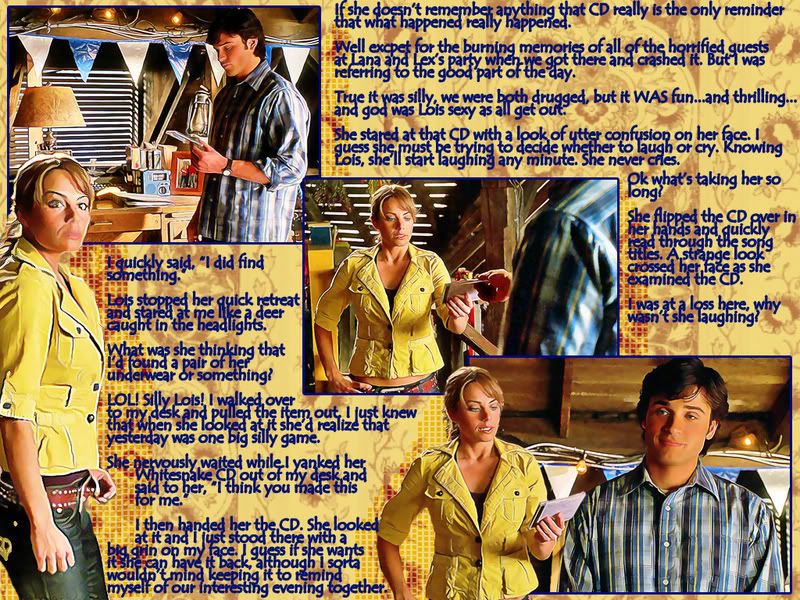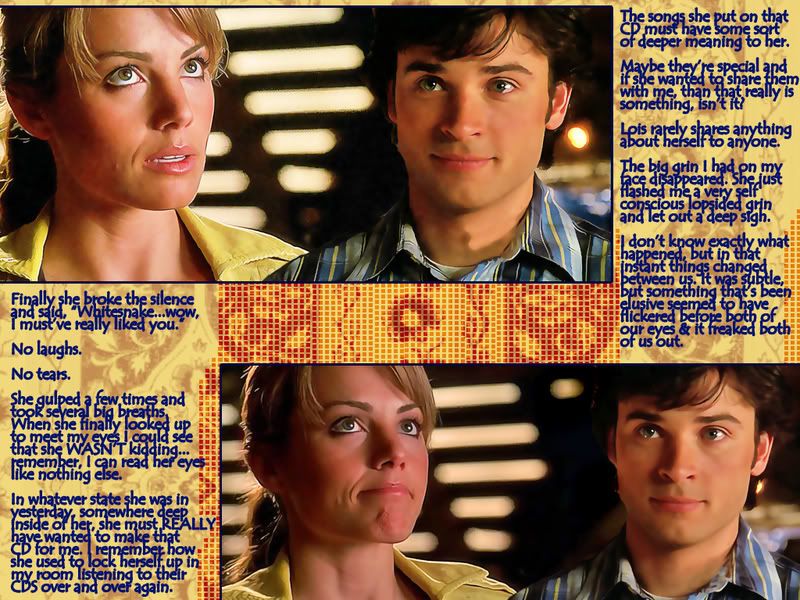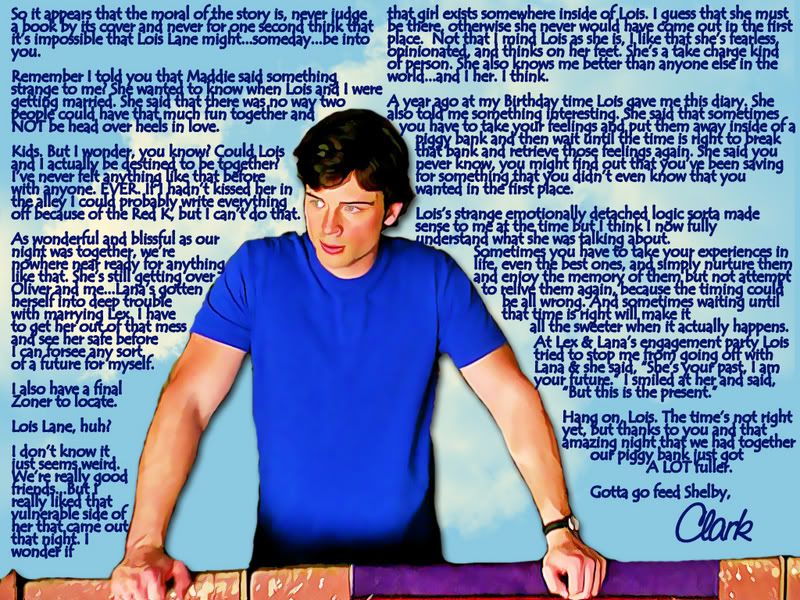 ---
Dear Diary,

Oh my god, I haven't written in here for…2 years???? Seriously a lot has happened in that time, I got sucked into a relationship with a manipulative shrew, Lex killed Lionel, my cousin came to Earth and tried to get me to fly…yeah like THAT was ever going to happen! Mom went to DC and never came back, Chloe got fired from the Daily Planet, Lois got HIRED at the Daily Planet, Lex bought the Planet, and me? Well I'm still a farmer….or was at least. That was until last spring when Jor-El made me realize what a royal selfish ass that I've been over the last few years. He showed me what the world would be like if I didn't get off of my butt and start to embrace my destiny - Lex could take over the world with Brainiac controlling him and wanting to turn the Earth into New Krypton!

Unfortunately I was too late, Lex learned my secret and he was hell bent to destroy me "for the good of mankind." We had a huge confrontation in the fortress and this is where I am right now.

*Click Clack Click Clack Click Clack*




Monsieur you are filthy…I am here to clean you up you dirty boy!




Holy mother of Krypton…Ok Lois baby, you want to clean me off? Come and get me!




Oh baby…I'm so dirty…can you clean my lips off first? Come on…closer….




Closer….




*SPLASH!*




DAMMIT! Instead of feeling Lois's soft lips pressed against mine and her fingers running through my hair I got rudely awakened by the Nazi Russian who's holding me hostage in a Russian work camp. Like I'm supposed to be GRATEFUL that he pulled me off of the Arctic Circle, I think I would've rather died than have to actually feel every muscle in my body ache from the hard labor that they're putting me through. I'm bruised, filthy, I haven't showered in days and stink because I've seen the way the other workers look at me in the shower…I'm SO not falling for that dropped soap routine!

Oh yeah, did I mention that my powers were gone? *Sigh*




"Don't you know that I was having a perfectly fantastic fantasy about Lois?"




Russian Twerp -" I do not pay you to daydream you worthless American scum! Now get back to work before I blow your 'ead off!"

Great he pulled a gun on me.

Me – "Dude she was in a skimpy French maid's costume! And she look H-Oooo-T!"

Russian Twerp – I don't care – shut up!

Can this day get any worse?




I was just thinking, man this guy must be gay if he can't see why THAT fantasy of mine was so worth taking a mid afternoon siesta when someone arrived and got Twerpie's attention and was blathering to him in Russian.




Oh man! It was Oliver! He and Twerpie were yammering about something and then Oliver came up to me and got right in my face.

Oliver – "You got a problem with me?"




Huh? Man I'm SOOO happy to see you!




Oliver - *rolls eyes*" Is my presence here bothering you?"




Oh wait, I get it, we're role playing….like Lois in that French Maid's costume…

I say, "Yeah, you're starting to."




*WHAM*

DUDE! Oliver clocked me! Crap that HURT!




"What was that for?" I whined.

Under his breath, Oliver warned, "Just go with it Clark."

Huh, nice turn of events here…I'm totally frustrated after getting interrupted from my Lois fantasy and here arrives the man who dumped her and broke her heart.

*YAAAHHHHH PAYBACK TIME* I tackled him.




Of course with me being powerless, Oliver managed to get the upper hand, but not after I gave him a good punch in the face.




Oliver pulled a knife on me and threw money at Twerpie for whatever he was buying…and asked for me as a bonus so that he could have his way with me. God I'm going to need therapy after this, aren't I?

Dude Twerpie said that he could have me…for free! I SO have to get my powers back, I may be a 220lb weakling without my powers, but I'm not CHEAP!




Some man of steel, eh needing his billionaire boy-toy to come along and save his ass…literally.

*Damn* I hate being indebted to Oliver. Wait, how many times have I gotten HIS green butt out of the fire? Yeah I think I can deal.

Mustering up whatever male bravado that I could find after that humiliation I turned to him. "What took you so long?" I asked as he sighed and steered me off to freedom.

So Oliver and I hopped on his private jet after I cleaned up. I guess he prefers the smell of his precious caviar once a can is open, not in walking human form. We talked about things – and I learned that Chloe hadn't been taken prisoner by the DDS. Oliver and I figured out where she was being held and we headed to Montana to rescue her.

Powerless, but rested Oliver and I split up to cover more ground. As I rounded a corner a familiar, bossy voice greeted my ears.
"Oui Madam?" I asked.




Stopping dead in her tracks, Lois stared at me like I had 3 heads ( I get that look from her A LOT.)

She was wearing black coveralls…not exactly what I had imagined her in earlier…




And she looked utterly baffled and was as confused as I…that I knew French.




With 2 guys walking behind her she asked what the hell I was doing there?

One of the goons asked if we knew each other, she said yes, I said no.




I then recognized the look on her face – it was the same as on Oliver's she had a plan to get out of this so I shut my pie-hole and let her take the lead.




Don't ask me what she was saying…I was totally distracted…was it the lighting in here or was her hair darker?




Brunettes always stupefy me with their beauty which explains the 2 year void-gap in my diary entries. So…not…going…THERE.




Anyway, she got ticked off at Lex's goons , I knew THAT look, Mad Dog was ready to turn these 2 into Puppy chow.




She said something about wanting to put me back into my cell and SHE GRABBED MY HAND! Was she copping for a feel? I may be powerless but my tushy is still firm.




Nope, definitely not coping for a feel – with barely a warning she attacked the 2 guys. Me, I certainly wasn't going to hide behind Lois's skirt and I KOed the bigger of the two goons.




Lois grabbed one of the guard's guns and proceeded to ramble about looking for Chloe. Man, she didn't even see what a stud I was at punching that guy out. I was mad, my defenses immediately came back on.




Lois said that she got in using her feminine charm, I of course had to bark at her about that not being possible and something just clicked, it felt like old times…she and I were immediately back in that zone where I was witty and even though she didn't admit it, she was impressed by my charm. How do I know? She commented on me getting my sense of humor back again.


*Puffs out chest*




I then commented on how I was nervous about her pointing that gun at me.




Lois of course got all offended and said that she'd been around guns her whole life and that I was pretty much an idiot for thinking that she was going to shoot me.

Ok, I know Lois, she thinks she's all that but she's seriously disaster prone. Seriously! I've lost count of how many times I've had to save her in the knick of time. I hope that she learns some common sense, particularly if I don't get my powers back, she'll be in real trouble otherwise.

Besides, without my powers, myself and Clark Jr. both have every right to be scared of her wielding a gun.




As we were passing by rooms and Lois continued w/ her running commentary, I finally found where Chloe was being held. Door was locked.




Lois was all business, and ordered me out of the way.




I didn't ask twice, I got the hell out of the line of fire.




She raised the gun, blew apart the lock, and got the door open.




Instead of waiting for me, she barged right into the room.




Chloe wailed out a warning.




Too late, Lois got stunned by a geek in glasses.




You can't do that to my girl…I mean my French maid…I mean my friend! Dammit you Poindexter! Full of masculine energy I clocked him too.




You know, it's not too bad not having powers. I feel alive with all of this adrenaline running through my body!




Immediately I checked to see if Lois is alright, luckily she's fine but DAMMIT, she's always getting knocked out so that she can't see me when she actually CAN see me acting like a stud.




Oh yeah, Chloe was fine too. She wanted to know why I didn't immediately run to her rescue. Hello…I was a little busy avoiding becoming a Russian squeaky sex toy. I had to settle for becoming Oliver's bitch instead. Man, thank you Lois and Chloe, it's nice seeing females again.




Overall, I was feeling pretty good, this day hasn't turned out all that bad, actually. All that I had to do was find Oliver, get Lois, and we could be on our way.

Shelby's barking, a delivery truck is here…I'll get back to you shortly diary…really, I swear, I'm not going anywhere…you'll see why.


Clark
---
Dear Diary,

Where was I? Oh yeah...so I left Lois in the capable hands of Chloe to look after and went looking for Oliver. I couldn't believe that even without my powers I had completed my mission! I came upon Oliver in the facility and was really excited to tell him that we could leave so that I could go home to Shelby.




Oliver then barked out to me "Where's Lex?"




Huh? Dude I just found Chloe and Lois, who gives a crap where Lex is?




Oliver then did something really weird – he SHOT ME!





WTF? Damn this hurts more than manual labor!




Oliver then said something about killing me and I didn't know what to do. I had no idea where Baldy had disappeared to and HE knew that! Obviously Oliver had been infected by something or was under Luthor control.




He shot me again! I tried to reach the arrow but dammit, no super-speed and slowing down time, my reaction was off and he skewered me like a shish kabob.




Shish Kabob…damn I'm getting hungry.




Where was I? Oh yeah…lying on the ground bleeding to death!




Oliver snapped out of it and apologized.




Dude, you are so never getting a second chance w/ Lois after THIS crap! If I get through this and you think of making the moves on her again I'll strangle you!




As I felt the blood pouring out of my body – I looked up into the sunlight and saw an angel coming for me…Lois!




Wait…Chloe??? Where is LOIS?




Dammit Chloe stop trying to heal me, where in the hell is Lois? Is she alright? Why did you leave her?
*Whimper* Why would anyone leave her?




Man, I'm dying and am going to die in the arms of my best friend, not the hottest babe on the planet. Seriously WHAT was I thinking for the past year and a half? I could've hooked up w/ Lois and instead went chasing after pinky…

Nothing…my life has amounted to nothing….




Cold…so…cold…life….flashing…before…eyes….at least…I can conjure up Lois's gorgeous legs…I mean face…in my head….




LANA????




Freaking Pink Princess…come ON, I'm finally over that shrew and SHE'S who I see as I head into the afterlife?




And then there's my parents…wait Mom's not dead is she? Wait if I saw Lana does that mean that SHE'S dead? No, I'm pretty sure Mom and Lana are still alive, I think they're just here to remind me that I will never get into heaven if I die with an erection.




Bright light….Big man in the sky….wow, I guess Pete was right, Jesus is a black man, now I'm really upset that I can't dance, nothing quite worse than being humiliated by showing the Lord above that this poor white guy has 2 left feet.




Yeah, yeah, show off…so you can fly too…HA HA. See Chloe, I'm not God, he can fly and I can't.




Then I woke up….




Dude! No more holes in my chest! I'm ALIVE!




Jesus wasn't Jesus…it was J'onn he saved me!




And somehow I got my powers back!




J'onn took me up to the sun and healed me.




But he fried his own powers in the process.




This is it man – no more wallowing in self pity, no more holding onto a life that doesn't belong to me….




J'onn gave up his powers because he believed that MY destiny was greater than his.




I'm officially taking control of MY life. I want what I want! And yes I STILL want my favorite red jacket I don't care if it's 6 years old – it's miraculous, it's been blown to bits, fried, burnt up, frozen, and slobbered on by Shelby – this thing will never leave my side! Besides…I still look good in it!




So I started looking for a new path…and that path wasn't in Smallville anymore. Everything that I had been holding onto just didn't exist anymore. I needed a new change of scene…I needed action to keep me on the right path. I headed to Metropolis to start over. There I met up with a sheepish Oliver who noticed my change in attitude. He warned me that soon I'd be dressing up in homemade costumes just like him and the rest of the JLA.




That's fine Oliver, but if you don't behave yourself and stop shooting at me and making Lois's life miserable, I'm going to hide YOUR costume and make you wear tights.




Tights…what kind of a MAN would run around in tights as a superhero? How humiliating. LOL!




Time to head off towards my future…





Ok I know that this seems like a bad place to end things, but ever since I wrote that shish kabob comment – I'm STARVING. Back after I eat the entire contents of my fridge.

Clark
---
---