Avatar Screencap Gallery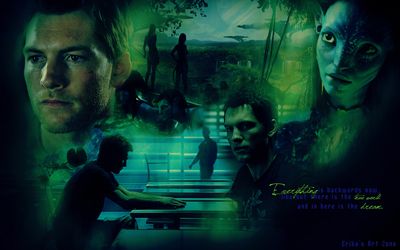 This is my AVATAR screencap gallery. All caps were created for personal & promotional use, I am not profitting from them in any way.
All images belong to Lightstorm Studios & 20th Century Fox.
All Interview caps are the creative property of the respective studios.
Generally I don't create Zip files because I just don't have the time. I highly recommend that you obtain this program. It will allow you to download all of the photos from the back ends of my galleries with little effort on your part:
Feel free to take the caps that you'd like. I appreciate link-backs and credit.
---
Screencaps Quick Access Menu:
Trailers & HD Clips Behind the Scenes Specials
Sam Worthington Caps Zoe Saldana Caps Sigourney Weaver
.
---
Avatar Screencaps:
HD Teaser Trailer

1920x800

HD Trailer

1280x544

Not in Kansas Anymore HD Clip

1920x1080
Neytiri Takes Flight HD Clip

1920x1005

Jake Learns Navi HD Clip

1920x1080

You should see your faces HD Clip

1280x720
Thanator Chase HD Clip

1280x720

Flight Chase HD Clip

1280x720
---
Behind the Scenes Specials & Interveiws
Hardware Special HD

1280x720

Neytiri Featurette

480x270

Jake Sully Featurette

480x270
Grace Augustine Featurette

480x270

Parker Selfridge Featurette

480x270

Colonel Quaritch Featurette

480x270
Trudy Featurette

480x270

Making of Avatar Special

Gallery

Gallery
---
On The Tonight Show with Conan O'Brien

720x480

Behind the Scenes Vogue Shoot

480x270 (Plus Scans)

LA Times US film Premiere

480x360
Sam on Rove Australia (plus Promo Photos)

480x270

Gallery

Gallery
---
Zoe It's On with Alexa Chung 12/15/09

720x544

Zoe Saldana Letterman 12 14 09

720x480

Zoe on Ellen

720x480
LA Times Premiere interivew

480x360

KTLA

720x480

Zoe Complex Shoot

640x360
---
Sigourney on Craig Ferguson

720x480 (Plus Promo Photos)

Sigourney on the Jay Leno Show

1920x1080

The Daily Show

640x480
Sigourney Weaver on David Letterman

640x480

On Jimmy Fallon

632x480

Gallery
---
Multiple Cast Member Interviews
Sam James Spike PreGame

480x270

Sigourney & Sam on the View 12/15/09

720x480

Cast at Comic Con for Entertainment Weekly

Gallery
Sam & Zoe Moviefone Unplugged

480x360

Fox special with Sam, Zoe, and James Cameron

480x360

Gallery
---
Michelle Rodriguez Bonnie Hunt Show 12 18 09

720x480

Michelle Rodriguez Craig Ferguson 12 18 09

720x480

Michelle Rodriguez KTLA London Premiere

2 Interviews 628x480

Gallery
Giovani Ribisi Jimmy Fallon

720x480

Giovani on WPIX

720x480

Joel Moore KTLA

720x480

Gallery
Joel Moore on Carson Daly

720x480

Joel Moore WPIX

720x480

JamesMore TV Guide

628x480

Gallery

Gallery
James Cameron LA times

480x360

Gallery

Gallery

Gallery
---